In 1980, The Pennsylvania Crime Commission (PCC) documented the ties to Organized Crime of apparent legitimate cheese and pizza businesses which located in 54 Pennsylvania cities and towns.
The report, "The Study of Organized Crime's Infiltration of The Pizza and Cheese Industry," published March, 1980, was the result of a two-year investigation of the pizza and cheese business in Pennsylvania and its ties to Organized Crime figures in the State, other states and Canada.
The widespread illegal activities of the controllers of these businesses cost Pennsylvania taxpayers incalculable millions of dollars in state, local, and federal taxes; drove out legitimate business competition; cost human life through murder and arson and provided millions of dollars in cash for Organized-Crime.
Skimming
The Crime Commission investigation established that these interlocked businesses routinely engaged in identical and continuous skimming of millions of dollars of cash income each year. This practice defrauded tax agencies of substantial tax payments and created the need for higher taxes on individuals and other legitimate business operations.
An example of the magnitude of the skimming operations was the operation run for six years by Antonio Stabile, the owner of the Italian Delight pizza shop in the King of Prussia Mall in Montgomery County.
It was estimated that in those six years, Stabile skimmed nearly a million dollars in cash from the shop's income. The Pennsylvania Crime Commission investigation determined that Stabile or his shop manager made regular exchanges of small denomination currency for larger bills at a nearby bank. Those larger bills were never included in the shop's bank deposits.
The amount of money exchanged and then skimmed from the shop's income totaled from $1,000 to $8,000 per week which in many instances was more than the total monthly sales as reported to the management of the King of Prussia Mall. As is the case with most mall and shopping center lease arrangements, a part of the rental payment is figured on the monthly sales receipts of the tenant. By skimming cash, the pizza shop was defrauding the Mall in addition to the government taxing agencies.
The skimming practice of Stabile's Italian Delight shop was similar, if not identical, to those at the more than 75 Pennsylvania pizza shop locations investigated by the Pennsylvania Crime Commission.
A conservative estimate would indicate that nearly $4-million annually in unreported cash income was skimmed from the locations examined by the Pennsylvania Crime Commission.
Considering the limited nature of the investigation, the Pennsylvania Crime Commission estimated that more than $20-million in annual cash income was skimmed by Organized Crime controlled pizza shops in Pennsylvania.
Arson
The Report of the PCC of the two year investigation included twenty arson suspected fires at Pennsylvania pizza shops.
Pizza shop arsons were responsible for at least four deaths and had proven to be an effective means of dealing with competition and a profitable means of closing out an operation at the expense of the insurance industry.
In an apparent attempt to limit competition, the Little Italy Pizza Shop in Pottstown was firebombed three times in the first ten months of 1975 before it had opened for business.
Two arsonists were killed in the July, 1977, firebombing of a pizza shop in Ambler (Montgomery County). Two more arsonists died in an extensive fire which swept a downtown Pittsburgh pizza shop exactly one month later. And, a confessed arsonist testified at a trial that he believed he was to have died in the fire that he set in a Hazleton (Luzerne County) pizza shop in September, 1977.
The rash of pizza shop arsons and the resultant deaths precipitated the Crime Commission's investigation into Organized Crime's involvement in the pizza and cheese business.
Near the conclusion of the Crime Commission's investigator another Organized Crime figure who worked at a Pennsylvania pizza shop was killed. In July, 1979, Organized Crime leader Carmine Galente and his bodyguard and part-time chauffeur, Leonardo Coppola, were assassinated in a New York City restaurant. Crime Commission agents determined that Coppola maintained an apartment in Chester (Delaware County), Pennsylvania and had worked in a nearby pizza shop before his murder.
Manufacturers, wholesalers, and distributors operated by Organized Crime in Pennsylvania and elsewhere controlled a substantial part of sales and deliveries to legitimate pizza shops in addition to those shops already under the ownership and control of criminal organizations.
The systematic evasion of taxes by every element of the criminally controlled cheese and pizza businesses was so extensive that the Pennsylvania Crime Commission placed only a minimum estimate of $25-million in annual unreported income in Pennsylvania.
The Crime Commission's probe confirmed that Organized Crime connected pizza and cheese businesses had made large amounts of money in Pennsylvania through questionable business practices and connections. With this large cache of money, these businesses were able to expand their operations into other States.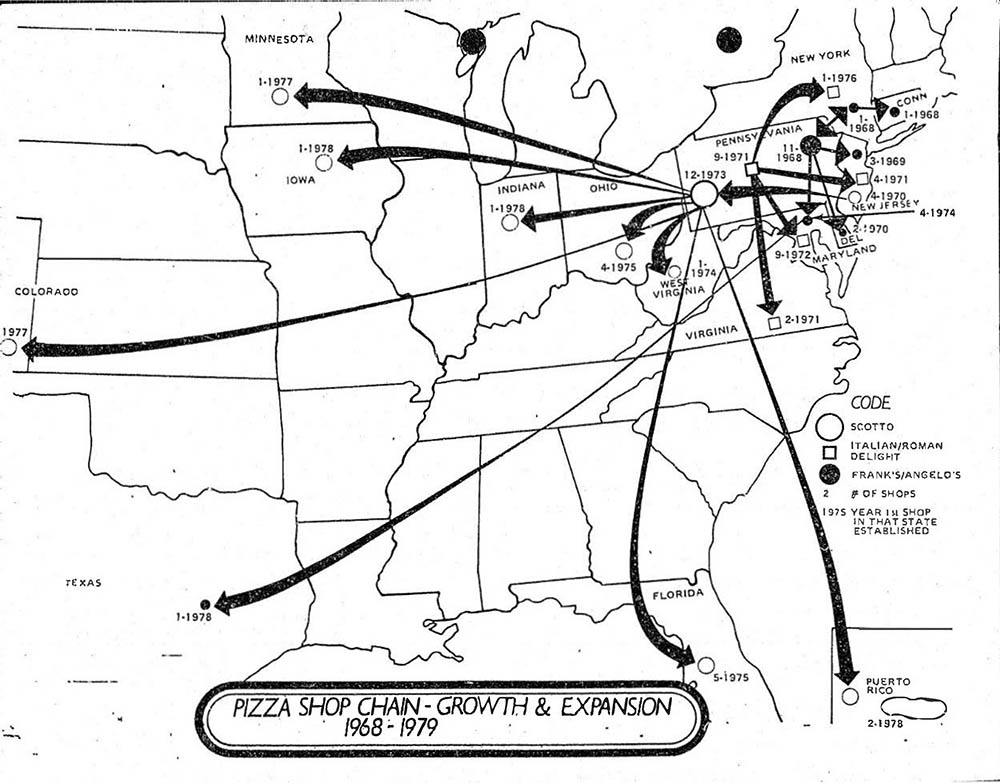 A substantial number of the retail pizza shops in Central and Eastern Pennsylvania were controlled by Organized Crime.
The study of the industry revealed Organized Crime influence and control of the industry from the beginning of cheese production, through a distribution system, to the corner pizza shop.
The control of the industry reaped enormous amounts of unreported cash for Organized Crime and the continuation of that illegal cash flow was guaranteed through roughshod and illegal tactics in the marketplace. It brought death, arson, insurance fraud, economic loss to legitimate business, and higher taxes for everyone.
The actual control of the cheese and pizza business began with Joseph Bonanno, Sr. Bonanno who was regarded as one of the most powerful leaders of Organized Crime in America.
Below: Joseph Bonanno, Sr.
Bonanno initiated a conspiracy to control the specialty cheese business in the United States in the early 1940s and even in 1980.
Bonanno had direct ties to Grande Cheese of Wisconsin; through it to Grande's exclusive distributor in the Pennsylvania area, Roma Foods of South Plainfield, New Jersey; and through the distributor to hundreds of retail pizza shops which had been financed and controlled by the organization in Pennsylvania and New Jersey.
Organized Crime's Control of Cheese and Pizza Distribution
Roma Foods of South Plainfield, New Jersey at the time was the major pizza shop supplier in the New Jersey-Pennsylvania area. Its founder and president was Louis Piancone.
Roma Foods rapidly expanded its operations from its base in Northeastern United States . Roma Foods took over the debts, accounts and warehouse of Primo Foods of Jacksonville, Florida in June of 1978 and shortly thereafter opened its Dallas, Texas area warehouse under the guidance of Piancone's son-in-law, Joseph M. Picca.
Roma Foods, a full-service supplier to pizza shops and the sole East Coast distributor for Bonanno influenced Grande Cheese, did business in cash. In addition Piancone loaned substantial start-up money for pizza shops in Pennsylvania and New Jersey.
Competing suppliers said that it was next to impossible to crack Roma's market of 650 accounts in Pennsylvania, New Jersey, Delaware, New York, Maryland and Ohio.
The Crime Commission investigation had determined that Piancone loaned $100,000 in cash and $95,000 in supplies to John Scotto of Vorhees Township, New Jersey to help Scotto open three of his more than 25 pizza shops in Pennsylvania and New Jersey.
Piancone's other loans included $10,000 to Frank Galofaro of Springfield (Delaware County), Pennsylvania,  who was a partner in the Italian Delight pizza shop chain and  $15,000 to Franco and Biagio Esposito, owners of pizza shops in the Reading, Pennsylvania area.
Roma Foods and Pennsylvania Taxes
The PCC investigation raised the issue of Roma Foods' corporate tax liability. The investigation revealed that Roma Foods had paid no corporate taxes in Pennsylvania, and, except for two years, had not paid sales tax in New Jersey since opening in 1966.
The determination of corporate tax liability of an out-of-state corporation is a complex issue. The courts held that where a corporation of one state merely sends in "missionary representatives" to another state, there is no tax due to the second state. However, where those representatives do more than solicit business in the second state, a tax may be due.
In the case of Roma Foods, Roma employees took orders, collected payments and adjusted accounts for Roma Foods in Pennsylvania,
The fact that Roma Foods established an account with an Allentown bank after one of their drivers had been robbed of $15,000 cash in 1971 is evidence of the collection practices of Roma truck drivers. The account enabled Roma drivers to deposit money locally and avoid risk of robbery in the course of their deliveries. The bank account carried an average balance of $250,000 which enabled Piancone to establish a $600,000 line of credit with the Allentown bank which was terminated by the bank in 1978.
Scotto Pizza
The Scotto brothers – John and Vincent – opened more than 25 pizza shops throughout the United States including 11 in Pennsylvania.
The Scotto Pizza chain was a specialized Organized Crime twist on the "franchise" system. Those persons who bought or leased Scotto shops made two types of payments to the Scottos. The Pennsylvania Crime Commission investigation determined that those persons paid a small amount by check for "reporting purposes" and also to make substantial under the table cash payments to the Scottos.
The investigation provided the information that one Scotto manager made weekly cash payments of $1,800 to the Scottos. The Crime Commission investigation also demonstrated that Scotto shops regularly employed illegal aliens and that those aliens were also paid in unreported cash.
A cousin of the Scotto brothers – Bruno Colandrea was an integral part of the Scotto pizza operation and, the Crime Commission investigation determined, was the "enforcer" for the Scotto chain. Prior to joining the Scottos, Colandrea in 1971 had opened the Brother Bruno pizza shop in Exeter, Pennsylvania.
Although John and Vincent Scotto controlled most of the business operations, it was Bruno Colandrea who was most feared when it came to enforcing business policy. One Scotto lessee who left the Scotto fold to embark upon his own business refused to make certain pizza shop renovation payments and was threatened by Colandrea with references to "cement shoes" and being found "in the river in a plastic bag."
In the course of the investigation, John Scotto admitted to Crime Commission investigators that he and his brother Vincent were good friends with Joseph Ianacci, who had been identified by federal authorities as having been a bodyguard and "enforcer" for the late Joseph Colombo, Sr., the leader of the Colombo criminal organization. In fact, the Commission discovered, lanacci had secretly agreed to finance a private club that Vincent Scotto had proposed to open in New York.
John Scotto, as mentioned earlier in the Roma Foods report, had borrowed heavily from Louis Piancone to open Scotto shops in Greensburg, Pennsylvania and Steubenville, Ohio.
In an interview with investigators for the Crime Commission, John Scotto said that three corporations operated the Scotto Pizza chain. Two Brothers Scotto, Pizza Inc. and Italian Kitchens, Inc., both of which handled leasing arrangements, were owned by John and Vincent Scotto. Scotto Management Company, which handled the franchise agreements, was owned by the Scottos and Bruno Colandrea. John Scotto failed to mention Scotto Pizza, Inc. which was another corporate name discovered in the course of the Crime Commission investigation.
The Opening of a Scotto Shop
A typical Scotto operation included the negotiations for a Mall lease and arrangements for renovations and equipment installation by Two Brothers Scotto Pizza or Italian Kitchens.
When a  shop opened it was operated by Scotto Management Company with managers and employees brought in from other Scotto shops. Most employees were paid in cash and Scotto leased a nearby apartment for the employees as part of their wages.
When a Scotto Pizza shop was sold (prices ranged from $100,000 to $1.1 million), the general practice was to require no down payment and "financing" was handled by the Scottos. That financing included substantial weekly cash payments to the Scottos.
The Esposito Organization
Three Esposito brothers – Domenic, Salvatore and Biagio were in the pizza business and three of Salvatore's sons – Sergio, Michele, and Franco – were also in the business.
Members of the organization had participated in various illegal activities including: obtaining fraudulent drivers licenses; employing illegal aliens; arranging marriages of convenience; making unreported cash salary payments; skimming cash; and non-payment of taxes.
The Crime Commission investigation turned up evidence of a State Police officer who allegedly participated with another officer in obtaining fraudulent Pennsylvania drivers' licenses for the Esposito family members and pizza shop employees. Information relative to this allegation had been submitted to the Pennsylvania State Police Commissioner.
When the Immigration and Naturalization Service arrested an illegal alien in Franco Esposito's Pizza City in Sinking Spring, Pennsylvania, Esposito made phone calls to area pizza shop owners to warn them of impending INS raids.
Vincent Scotto Di Luzio and George Discala 
These two men are associated with the Espositos in pizza shop ventures. They were part owners of the Hill's Diner with the Espositos.
The two owned the now closed Pizza Italia in St. Clair, Pennsylvania.
DiScala worked as manager of Brother Bruno's pizza shop in the Reading Mall in Exeter. He eventually took over the lease from Bruno Colandrea who had opened the shop in 1971.
Di Luzio opened his first pizza shop in the Reading area. He operated the Pizza Italia at 1528 North Fourteenth Street. Since opening the shop in 1972, Di Luzio had not paid the Reading earned income tax.
When fire destroyed the Di Luzio-DiScala Pizza Italia in Mahanoy City in January of 1979, investigators ruled it arson. The Crime Commission had been told that these two men planned the destruction of three Reading area pizza shops and the arson of their St. Clair shop.
Former DiScala employees provided Crime Commission investigators with information about cash wages for employee skimming of the shop income, and narcotics sales in the Brother Bruno's pizza shop.
The two year investigation of the cheese and pizza industry by the Pennsylvania Crime Commission had established a clear pattern by Organized Crime to control the industry. While the investigation did not specify every illegal activity of every criminally controlled operation, it did establish methods of operation to be investigated by state and local law enforcement and taxing agencies.