On November 16, 1974, a man walking along a fire trail in Reading's Egelman Park discovered the body of Steven Warunek. Warunek had been found shot to death with a gaping wound on the left side of his face.
On November 18, police arrested three eighteen year-old suspects, Anthony Reynolds, George Arms, and Richard Cohen, and charged all three with murder. A fourth suspect, twenty-three year-old Jack Geisler, was charged with murder a few months later.
Police also charged Stuart Richard Cohen with conspiracy to commit murder. Police investigation alleged that Cohen paid Arms and Reynolds $700 to kill Warunek in retaliation for threats Warunek made on Cohen's life. Warunek told his fiancé, Kerry Young, he would kill Cohen, Young's former boy-friend.
Below: Steve Warunek and Kerry Young, 1974.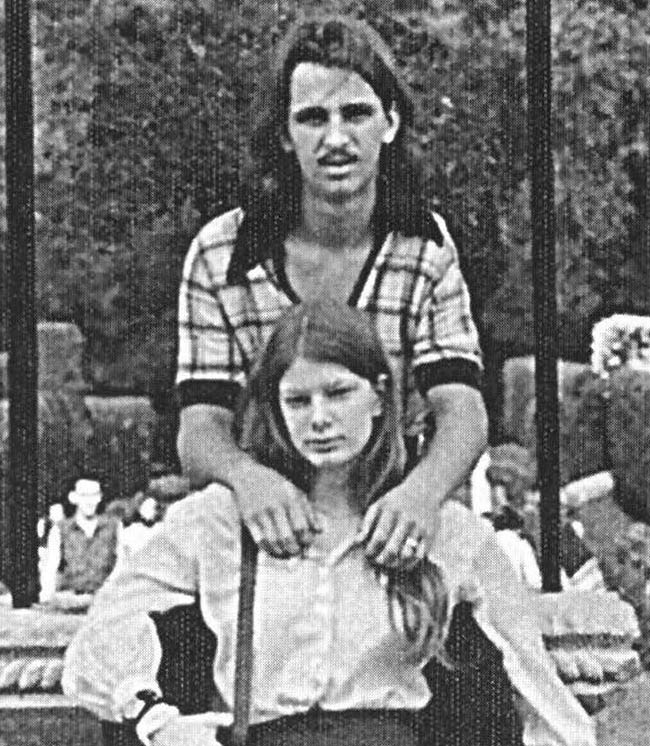 Below: Stuart Richard Cohen, 1974.
The plan was for Reynolds to knock on Warunek's door and offer Steve a drug deal. Reynolds would say he had some dope stashed on Mt. Penn. Because he was AWOL and afraid to peddle the drugs himself, Reynolds would offer to give the stash to Warunek "on consignment." Warunek could then sell the drugs and pay him later. Reynolds would say he needed the money to get out of town.
On Thursday, November 7, 1974, the suspects drove to Warunek's home at 141 W. Windsor St. in a truck driven by Jack Geisler. Reynolds got out of the truck with apprehension. He approached the fifth house on the north side of Windsor Street just west of McKnight.
When Steve saw the mailman at the front door, he went out on the porch. While sorting through the mail he noticed Reynolds approaching. As the mailman left, Tony came up the steps. Although the plot targeting Steve had been hatched a week earlier, obviously nobody had warned him about it. That the loose lips of the drug community failed to circulate rumors of the anticipated attack was truly amazing. Well over a dozen young people had some inkling of what was developing, but Steve Warunek never learned he was the mark. It is doubtful he would have casually greeted Reynolds if he had heard even the slightest hint that somebody was out to get him. Reynolds came right to the point as they talked on the porch.
Steve Warunek agreed to the drug deal and got into the truck. The seating in the truck had been prearranged. Reynolds motioned Steve into the cab, introducing him to Geisler. With Jack driving, Steve in the middle, Reynolds seated by the passenger door, and George standing in the back, they drove away.
The ride to Egelman Park was leisurely, Steve apparently not at all suspicious. The sun was shining, temperatures were in the mid-50s, and George Arms was not concerned with the chilly breezes that might have bothered somebody less robust or determined.
Geisler drove into a service station at 17th Street and Perkiomen Avenue for $2 of gasoline. He also bought soft drinks, further relaxing the plotters and their target.
Traveling up Mt. Penn on Hill Road, on reaching Angora Road they turned left. Off to their right was Egelman Park picnic area. Continuing up Angora for a few hundred yards, Geisler watched on his right for the first entrance to the fire trail. Several times he and others had held beer and pot parties at night on this secluded path. The popularity of this spot was such that $1 admission was sometimes charged by entrepreneurial organizers.
Geisler drove approximately two thirds the length of the trail before he stopped at the site where a phony bag of dope had been planted four days earlier. Although they were more than a hundred yards from the exit, the distance to Angora Road through the woods on their right was only 40 yards. The path almost paralleled the road at that point.
There was little brush, and few leaves remaining on the trees to block the view of car occupants passing on Angora Road. But nobody ever came forward as having witnessed the drama that was unfolding. The nearest house was at least 200 hundred yards away to the northeast and barely visible from where they stopped.
Three of the four young men in the truck would tell a wide array of stories about what happened that day. The fourth, Steve Warunek, was found more than a week later, a fatal gunshot wound in his head.
Whether he was killed that day or later was argued for years. Jack Geisler and Tony Reynolds would claim George Arms fired the fatal shot. Arms's denial was supported by considerable forensic evidence, kindling the specter of an unsolved mystery.
On Friday, word of Warunek's disappearance was spreading. Richard Abraham told Rick Wamsher that he had heard firsthand from Arms and Geisler that Steve Warunek was shot in Egelman Park.
When did Richie Cohen definitely learn about Steve Warunek's death? That is a multiple answer question. Who do you believe?
According to Rick Wamsher, he phoned Cohen Friday after receiving the news from Richard Abraham. Wamsher said Cohen's reaction was:
"Good. I'm glad they did it. I hope they are not lying and ripping me off." Geisler said he went to Cohen's house Friday night to give Richie a face-to-face report. This story was backed up by Phil Sugg who said he was listening as Geisler gave a 10-minute explanation of what he witnessed on the fire trail.
Cohen denied that either Geisler or Wamsher reported to him. He said Sugg was lying about overhearing a conversation between Geisler and him. Cohen's story was that he didn't learn about Warunek's murder until more than a week later when he read about it in the newspaper.
On Saturday, Sugg said he was walking his dog in Hampden Park near Reading High School when he was privy to more gossip about Steve Warunek. Phil said he stayed on the fringe of a group that was discussing the shooting. Present were Cohen, Rick Wamsher, Carol Garber, and possibly Keith Goddard, as Sugg recalled.
Judy Warunek's concern continued to mount when her son's bed remained empty Friday night. Although Steve had occasionally not come home at night, Judy sensed something was wrong this time. She began pressuring her husband to go to the police. Saturday, Eugene Warunek filed a missing person report. He described Steve as 5 feet, 10 inches tall; weight, 130 pounds; long, straight, brown hair; brown eyes. The father overestimated his son's height by five inches.
On Thursday, November 14, 1974, George Himmelberger was strolling through Egelman Park. He was an outdoors enthusiast, a sportsman who often wandered the trails of Mt. Penn. Three years earlier, Himmelberger had lost his right hand in an industrial accident.
It was just a week after Warunek's last ride, about two hours later in the day, when the 31-year-old Himmelberger parked his car along Angora Road. On entering the fire trail at the lower entrance he hiked in the same direction Geisler had driven his truck. George stopped suddenly, just short of the spot Geisler had braked to a halt a week earlier.
Himmelberger was about 20 feet away when he spotted the body. At first he thought someone was sleeping, or was it an abandoned mannequin? Edging closer, he could see it was a male, lying face up a yard or so off the left side of the trail, feet pointed toward the path. On advancing to within five feet of the body, George saw the head wound, and quickly retreated to the far side of the path.
Himmelberger kept right on walking, at a much faster pace, peering frequently over his shoulder. He was truly frightened.
On reaching his car, he jumped in and drove to a parking lot at the Tower, a landmark on Mt. Penn overlooking the city. What to do? He sat there pondering this grave problem. Civic duty versus don't get involved warred in Himmelberger's mind. Fright won the battle that day. He went home, slept little that night and lived uncomfortably with his secret all day Friday.
Finally at 11:30 p.m., he told his wife, seeking support of his decision to play it safe. She disagreed, insisting that George notify the police right away. By this time, more than 33 hours had passed since he discovered the body.
The call was received at 12:20 a.m., Saturday, November 16, by Desk Sergeant Richard Feeney. Only a few police personnel were in City Hall at that time of the morning. The third shift had gone on duty at midnight.
George Himmelberger had finally drummed up the courage to notify the authorities about his grisly discovery. Answering the phone call from Himmelberger, Sergeant Feeney told him a patrol car would be around to pick him up shortly.
Feeney called the Berks County Radio headquarters. A radio message was dispatched to the Lower Alsace Township patrol car. The exact location of the body could not be determined from the scant information Himmelberger had offered Was the body within the city limits or in Lower Alsace Township?
Reading Detective James Hullinger left City Hall immediately. Himmelberger's house at 357 North 10th Street was about five blocks away. Ten minutes later the detective and his charge arrived at Egelman Park, where they met the Lower Alsace patrol car with Sergeant Frank "Pretzels" Przestroelski and Patrolman Ted Guzanowski.
The policemen quickly established that the wooded area just above the picnic grove was part of Egelman Park, therefore within the city limits. But, the township policemen went along with Hullinger to assist if necessary.
It was about a quarter of a mile north of Angora Road to the first entrance of the fire trail.
"That's where I went in," George Himmelberger told the cops. Fifty yards farther north on Angora the second entrance to the trail veered off at a 10-degree angle. It was here George had departed Trom the woods after finding the body.
In the dark, on the unfamiliar, narrow trail, Hullinger drove slowly for about 120 yards before sighting the body. The detective was traveling in the opposite direction from that taken by Geisler's truck and hiker Himmelberger.
On either side of the trail the brush was light. The body was clearly visible just to the right of the trail. It was that of a young, white male, fully clothed, lying on his back. A gaping wound above the left eye was one of Hullinger's first observations.
The short life of Steve Warunek officially ended that cold morning along an isolated path when he was pronounced dead at 1:15 a.m. by Dr. Thaddeus Manuszak.
This veteran deputy county coroner, however, did not perform one other important function — he failed to take a rectal temperature. This minor procedure might have helped determine how long the victim was dead.
The 1974 murder of 16-year old Steve Warunek in Reading, Pennsylvania, resulted in marathon court cases that took almost two decades to resolve.
By 1976, four young men were convicted of the slaying. Anthony Reynolds, and Jack Geisler pleaded guilty to reduced charges and testified against Cohen. Jack Geiser pleaded guilty to third degree murder and received a sentence of 6-15 years. Anthony Reynolds pleaded guilty to voluntary manslaughter and received a sentence of 5-10 years. George Arms was convicted of third degree murder and given a maximum sentence of 10-20 years.
However, one of the four, Richie Cohen, never went to jail although it was he who paid $700 to the others to get Warunek "off his back."
Legal precedents, one after another, were set as highly skilled attorneys for Cohen tested the state appellate system to its limits before the case ended in 1993.
On June, 7, 1993, Cohen, whose conviction of third-degree murder was overturned by the state Supreme Court because of pretrial publicity pleaded guilty to involuntary manslaughter in Lackawanna County Court Monday.
Judge S. John Cottone placed Cohen on probation for five years and ordered him to pay a $5,000 fine.
The case was assigned to Lackawanna County in April 1980 because the former Berks County district attorney was close friends with Cohen's defense attorney, Manny Dimitriou.
Through the years, numerous appeals had been filed, resulting in the lengthy delay and the state Supreme Court decision earlier in 1993 that key commonwealth evidence could not be used against the defendant in a new trial.
Prior to sentencing Monday, Dimitriou told Cottone that his client acted out of fear and only asked the other men to rough up the victim to scare him.
His client did not envision or expect that the other men would kill the victim, Dimitriou said.
Cohen was a confused, immature teen ager who had experimented with drugs at the time of the incident but he is now a mature, responsible family man, Dimitriou said in his plea for probation for his client.
The burning question in the Cohen case, much discussed at parties, in bars, and in law offices, goes unanswered.
How much did Irv Cohen spend to keep his son out of prison? A conservative guesstimate after the case ended was half a million but that figure only included fees for Cohen's attorney, Manny Dimitriou. It did not include other high-priced attorneys who played important roles in the case.
Ed Taggert, retired editor of the Reading Eagle, detailed this notorious Reading-area crime saga in his book "The Cohen Case: His Long Day in Court."