Solomon Boscov was born the son of Molshe and Vassa Boscov, he left his native Russia and immigrated to the United States in 1911 with only about $12 in his pocket.
His first endeavor was peddling lemonade on the streets of Washington, D. C. After a fruitless search for work in Washington, D.C., he traveled to Reading, Pennsylvania. In Reading Boscov could communicate better, because many inhabitants spoke Pennsylvania Dutch, which had similarities to Boscov's native Yiddish.
Boscov used the little money he had to buy dry goods, which he rolled into a sack and peddled to farmers and homemakers. People liked Boscov: he was warm, honest, and had a great sense of humor. In a short time, he established a route of regular customers throughout Lancaster and Bucks counties. Boscov traveled his route on foot and did chores in exchange for lodging. He sometimes bartered merchandise for meals. Boscov made many friends along his route, who affectionately called him 'Sammy.'
Within a year, Boscov had saved enough money to buy a horse and wagon and to increase his inventory. He became a partner in a general merchandise store and in 1914 went into business for himself, opening a dry goods store in his family's living room at the corner of Ninth and Pike Streets in Reading. Solomon, his wife Ethel and his family resided in an apartment on the second floor.
Below: Boscov's Department Store, 1401 North Ninth Street as it appeared around 1947.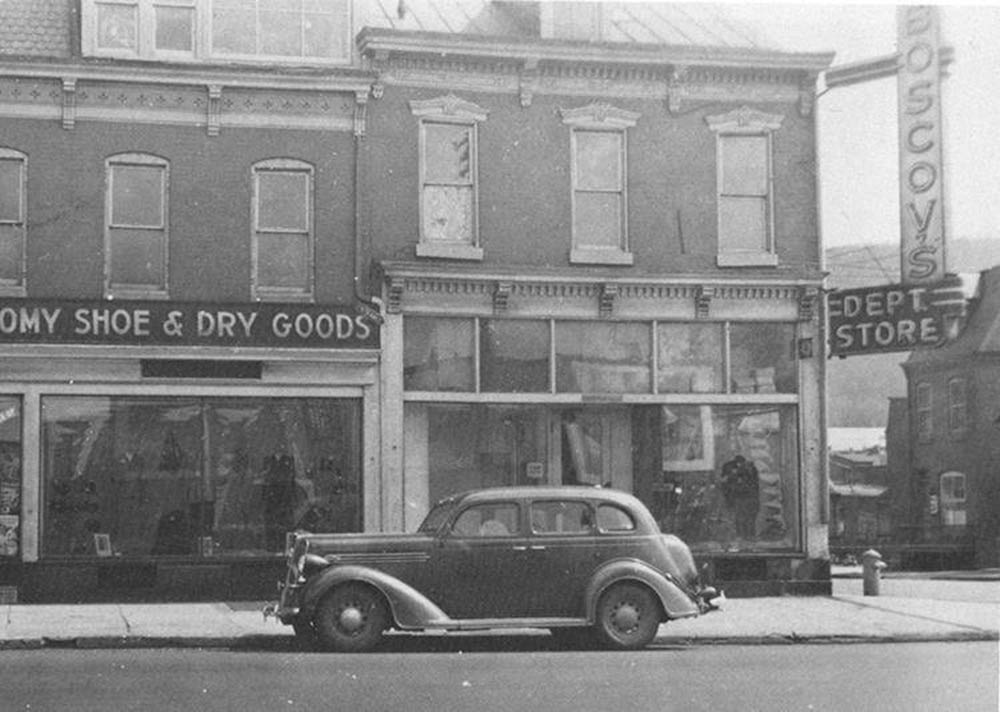 In 1954, Solomon's son Albert and son-in-law, Edwin Lakin actively joined the company and the original store was renovated and enlarged.
Below: Renovated Boscov's Department Store, 1401 North Ninth Street.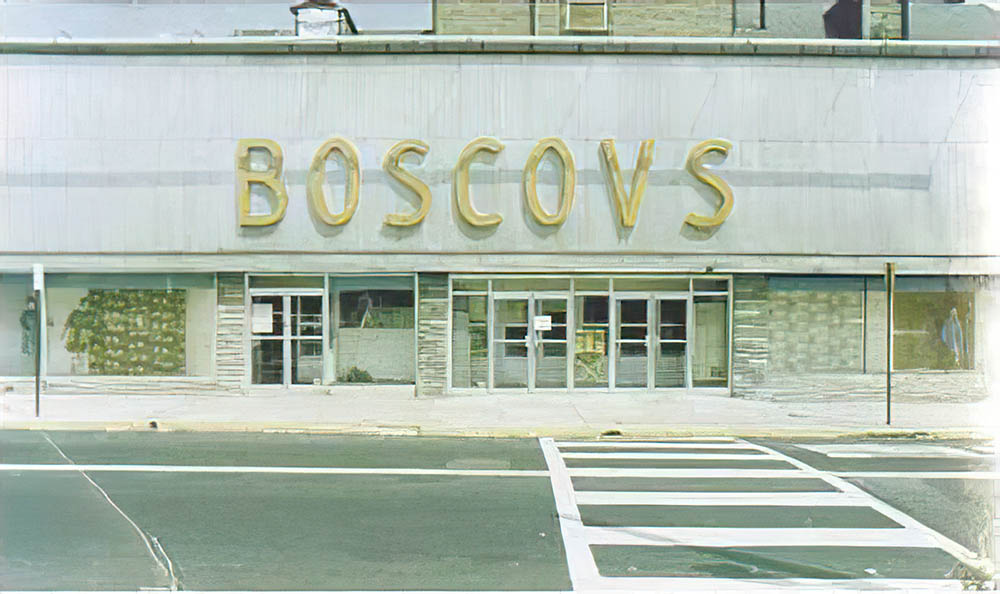 Word of Boscov's fair prices and quality merchandise spread quickly, and his business thrived. Solomon Boscov opened his second store, Boscov's West in Sinking Spring Borough, on November 22, 1962. His third store opened in Muhlenberg Township on North 5th Street on August 19, 1965. A year later, on November 20, 1968, Boscov opened another store, Boscov's East on Perkiomen Avenue in Exeter Township. For only a few short hours, Solomon Boscov had three stores in operation when later that evening, the Sinking Spring store burned to the ground. The first department store Boscov opened outside of Berks County, and the fourth in the chain, broke ground in January 1972. It was located on Route 422 near the City of Lebanon.
Tragedy struck in February 1967 when fire destroyed the original "East" store at Ninth and Pike Streets.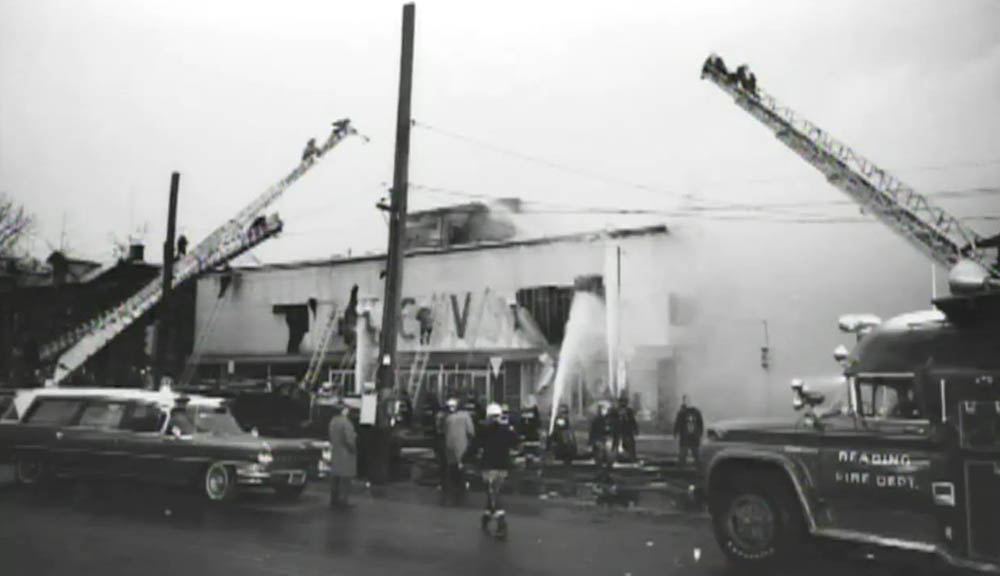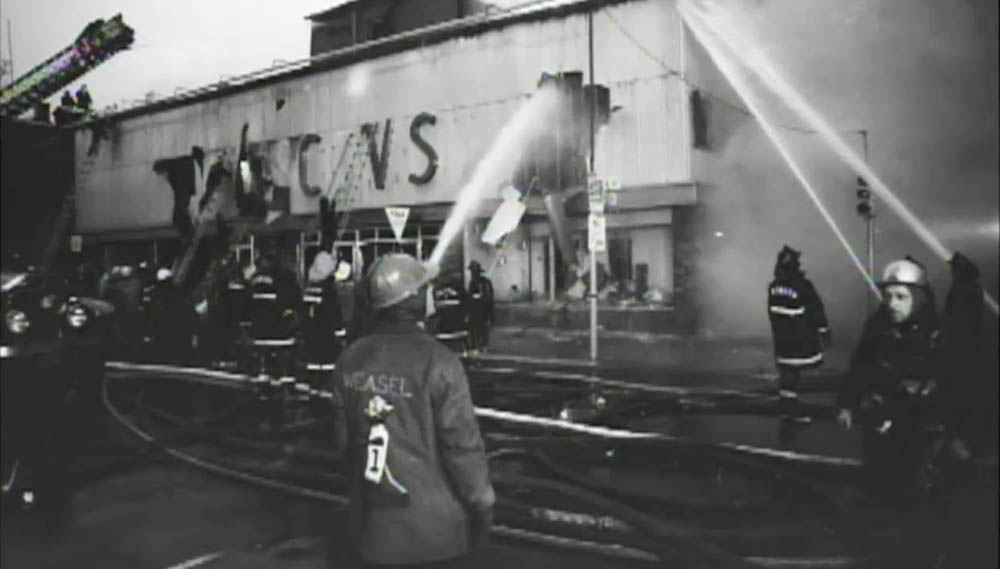 An historical marker was placed on the site of Boscov's first store, 9th and Pike Streets, on Tuesday, August 3, 1999, thirty years to the day that Solomon Boscov died.