St. Lawrence Luncheonette was a large and popular eatery that once hosted customers at 535 Penn Street. It was owned and operated by the St. Lawrence Dairy. Its ice cream and soda was understandably the most popular part of this operation.
Below: Interior, St. Lawrence Luncheonette, 535 Penn Street.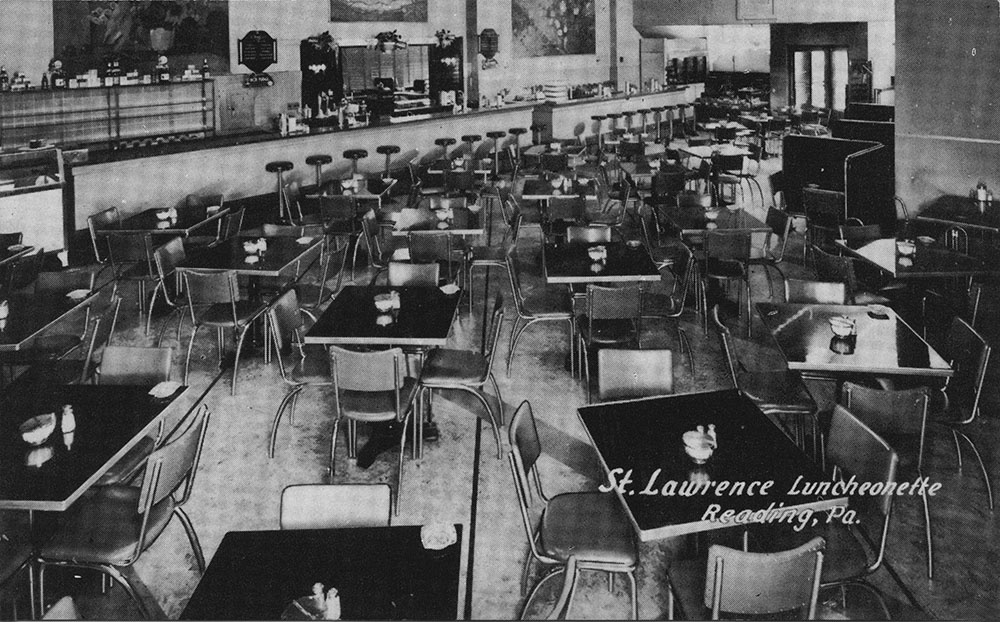 Below: Exterior, St. Lawrence Luncheonette, 535 Penn Street.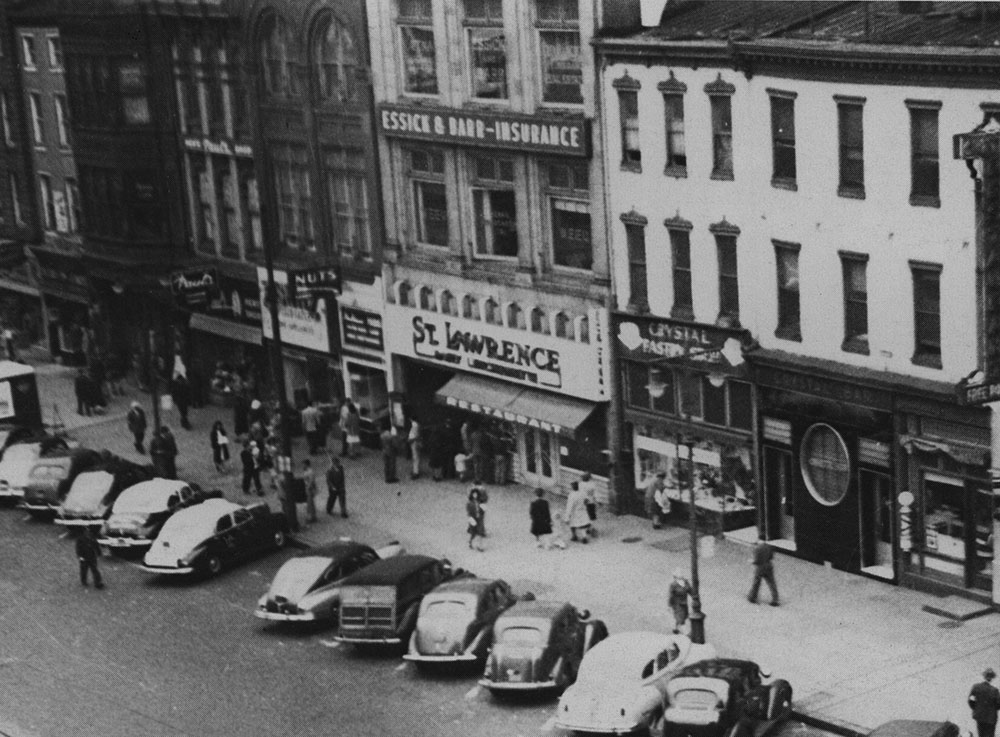 Below: St. Lawrence Luncheonette Menu, 1939. Click on Images to Enlarge.
The dairy was established in 1888 by Albert H. Adams who first operated a farm down the Oley Turnpike, northeast of Jacksonwald and Schwarzwald Church. That general area was once referred to as "Schwarzwald," a designation that gradually gave way to "Jacksonwald." Adams had moved to 3327 Brumbach Street in St. Lawrence in 1913 where he built a facility to sterilize bottles and bottle the milk. The original milk house remains on the grounds. When Albert H. Adams moved from the farm to St. Lawrence, he changed the dairy's name from Schwartzwald Dairy to St. Lawrence Dairy. In 1921 all operations were moved to 9th and Bingaman.
Below: Saint Lawrence Dairy, southeast corner of Ninth and Bingaman, was founded in 1888 by Albert H. Adams. From 1899 until the building shown above was occupied in 1920-1921, the dairy' operated in Saint Lawrence Borough. The founding family sold the business in 1960. This structure was razed.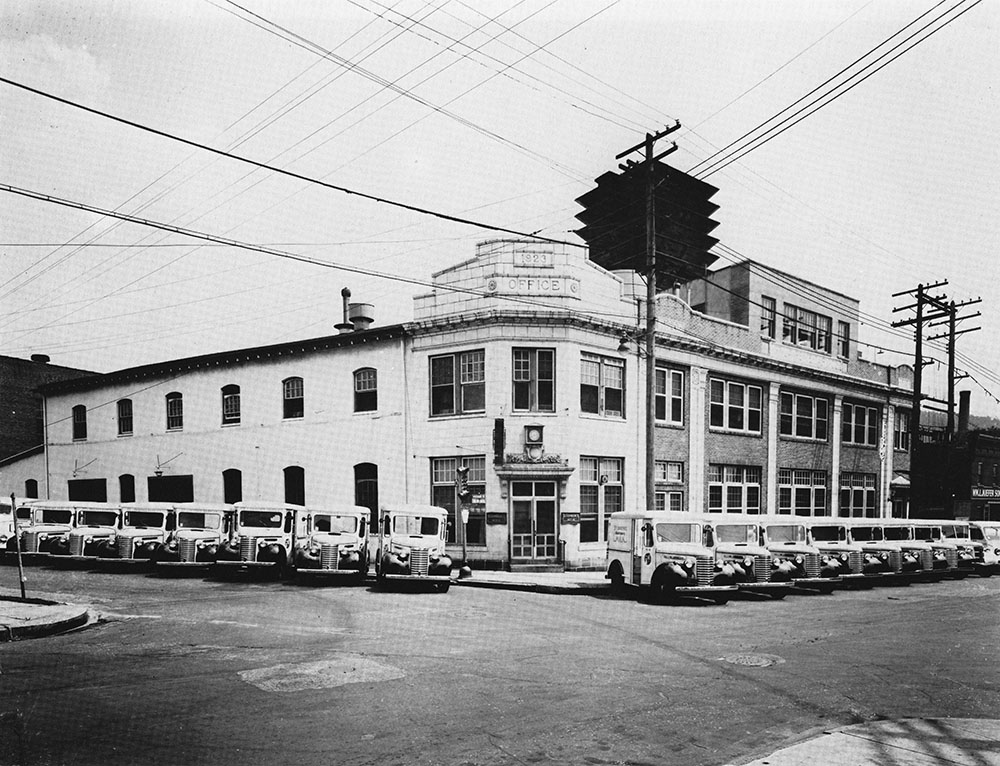 In 1958, St. Lawrence merged with Keystone Dairy, an entity established in 1939 by Lester G. Kauffman. The new company was called St. Lawrence Dairy with Lester G. Kauffman as president and Daniel S. Adams as chairman of the board. Daniel Adams was Albert Adams' son. Initially, the merger served 20,000 families and employed about 150 people. Milk was obtained from 84 dairy farmers, all from Berks County.
Below: The full line of St Lawrence dairy products.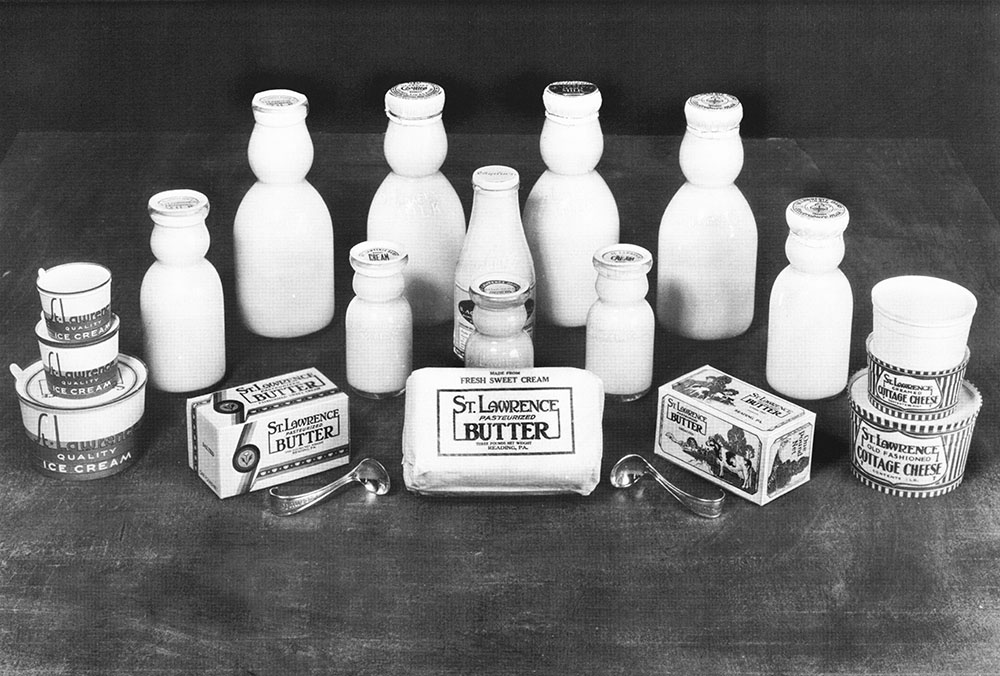 In 1959, Kauffman moved the St. Lawrence and Keystone operations into an enlarged and newly modernized plant along the Pottsville Pike in Muhlenberg Park. The nature of the milk business changed greatly during the following two decades. The era of door-to-door delivery of commodities came to a gradual end. Clover Farms, the last to home-deliver milk, made its final truck-run in 1988.