Written by John Sharp
Fifty years ago or so, I became part of the rock music scene in the southeastern area of Pennsylvania, since I was born in Reading in 1954 and graduated from Governor Mifflin High School in Shillington. While history was being made at Woodstock, NY, I was suffering as a wimpy outcast in junior high school, not an athlete or a popular figure, and gradually developing an interest in learning how to play guitar, and anyway, too young to drive to Woodstock.
I thought that guitar was the solution to becoming admired and liked, especially by the girls. Wearing thick eyeglasses and with pencil-thin arms, my sense of self-worth was at rock-bottom.
The universe had changed on the historic day in 1963 when I was in 5th grade and heard the Beatles as they debuted on the Ed Sullivan Show. (Actually, that show was on TV too late for me to see, as my parents sent me to bed.) I fell totally in love with Beatle music and it was immediately clear that all the girls fell for them too. But I had been exposed to jazz by my Father as a child. He played Big Band music on our huge German Hi-Fi radio in the living room, and particularly focused on singers like Frank Sinatra. Thus began my life-long love of jazz, just like my Dad.. .but the Beatles were another thing entirely. Eventually, I was drawn to the guitar mainly because of them. And yet, I was never in a band that featured Beatle songs.
In Reading, once I got my drivers license and a VW bug, I could go places and be with others who were also into music. I became friends in 11th grade with another student who moved to our district and already had played guitar in a band, so I was fascinated and began hanging with him and his buddies in the "rich" part of town. As a person, he was quite arrogant, but he had a bright red Gibson ES-335 and he was able to play fancy stuff. I put up with his profanity and smart-aleck ways because I really wanted to have the level of skill that he had. Soon, I became aware of his drug use and other bad habits, but I knew of nobody else at own school who could actually help me learn guitar. As it turned out, he never wanted to help; he just wanted an audience.
After graduating in 1971, I began meeting musicians from a wider area and played my first paying band gig.. .with my blue plastic Swedish Hagstrom bass. The gig paid about 25 bucks, but I was thrilled. I discovered that I could easily play with others by ear, and play the right notes. My guitar proficiency was not yet up to a decent level, but I was teaching myself by listening to vinyl albums and copying the parts by ear. Along with an Eric Clapton album, the double Allman Brothers "Live at Fillmore" album was like an encyclopedia.. .as long as you stayed in easy keys. After a year out of school, I was meeting older musicians and practicing with them; able to play more lead, and the proud owner of a 100-watt Marshall stack, which made my gold-top Les Paul sound just like Duane Allman!
I met a tall, thin dark haired guy with a black Les Paul who could copy B.B. King and then turn around and play songs from the band Yes perfectly; Gary Wentzel was extremely shy but an amazing talent. His pal with long blonde hair and a sunburst Les Paul was Andy Burasz, who also loved the Allmans. Answering a newspaper ad, I met a Black drummer named Howard Hemsley who invited me to downtown Reading, much more urban than my own suburban neighborhood. He did not reveal his real name that day; he had just been released from prison, and introduced himself as simply "Mod".
Deadly serious, short but muscular, Mod was older and a genuine tyrant as a bandleader. I had never before been around anyone who wasn't White. That band became "Pure Joy", played Black clubs and military bases, and also contained older White players Alan Ernst (bass) and trombone man George (no last name). The male singer was Eddie Lorik, the female singer was "Zetta". Eddie passed away from cancer soon after this, at age 26.
Pure Joy travelled as far as Groton, Connecticut and the outskirts of South Philly, where in a Black club, a patron who objected to my being there set my hair on fire with a lighter. This was my last mixed group until 1978, when I relocated to South Florida to work the club scene there. After 18 months of grungy club gigs, being exposed to a side of society I had never imagined, the band fell apart and I was free to look for a situation more to my liking.
Below: Studio portrait of "Pure Joy"- clockwise from bottom, Eddie Lorik, George ____, Alan Ernst, me, Zetta_, and Mod in the middle. About 1973. Nice pants!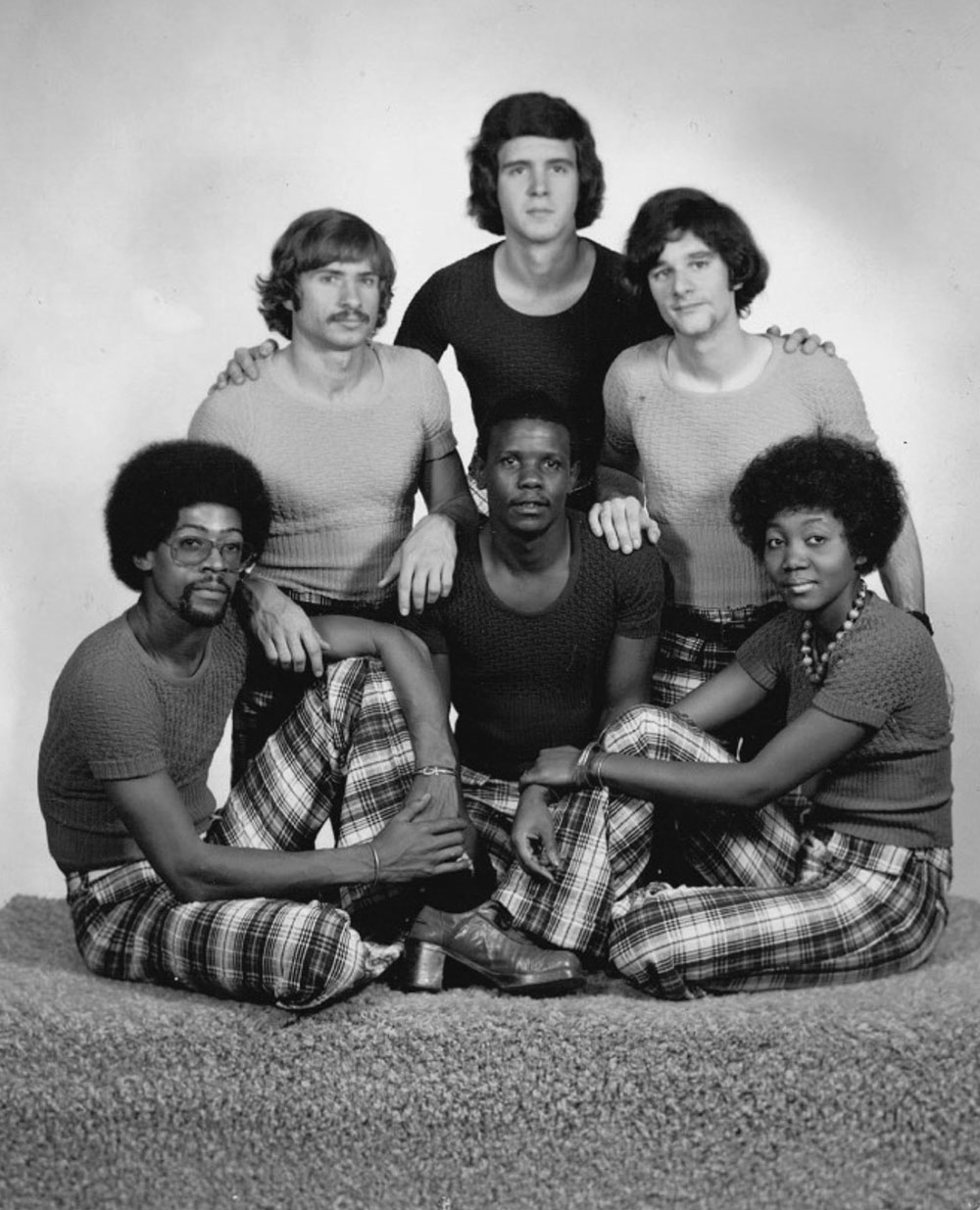 Somehow I located a group of "redneck" guys my own age who were forming a hard rock group based in Reading, which eventually allowed me to contribute the band name… "Deadlock". Unfortunately, I never got any photos of this group. The first rehearsal, I brought a brand new 45 RPM record fresh off the radio, as a song suggestion. They loved it; this was Lynard Skynard's Sweet Home Alabama. Of course, I had to nail the lead parts perfectly, so I did.
Deadlock played taverns south of Reading and a few events in the city where we surprised people with the strength of our sound, because we were totally unknown but sounded better than some other acts with a reputation. The singer was Bill Auer, Jr. from Honey Brook, Pa., a divorced Vietnam vet; and a highly intelligent man. Organist Barry Ellis was also divorced and a graphic artist, a Type A personality.. .The bassist was left-handed Woody (last name, Reppert?) who appointed himself in charge because he had the most attractive blonde girlfriend anyone had ever seen. and 19 year old drummer Jake, (last name?) who had just gotten married.
Jake was the loudest drummer I had ever heard in person, probably because he wore thick black leather gloves to whack those drums. Deadlock was a very loud band! This group lasted a little over a year, and I do not remember why we broke up. Probably because we could not find enough paying gigs to keep renting the rehearsal building.
At the same time, other local groups were getting my attention. The most impressive was a pro-level band, Uncle Drew, who had an especially strong lead guitarist name Fred Bernardo, a tall red-haired fellow. (Fred played exactly like Richie Blackmore of the British band Deep Purple.) This five or six-piece band had a keyboard player with the first Mellotron in Reading, an early synthesizer that created string section sounds like Britain's Moody Blues. About this time, Fred opened up his own music store on North 9th Street in Reading, "Fred's Music", where I bought my 1970 Gibson Les Paul with the case for a mere $250. Uncle Drew was a copy band that sounded exactly like the radio tracks, very smooth.
During the 1972 elections, Fred invited me to join him in a radio studio downtown to record a spot for the Democratic Party, where as a duet, we played the song "Summer Breeze". Years later Fred was successful with his store, moving to the suburbs of Shillington. Another exciting band was "Faith", which featured an energetic front man named "Steffy", doing a lot of Beatles tunes. Also a skinny, long-haired guitarist named Dewey Wahl, who knew his "stage moves" very well.
North of Reading there was a dance hall in Hamburg that had the same professional group every Sunday night, "Auburn", playing cover tunes including a lot by David Bowie and Elton John. People didn't dance, they just stood around or sat in the bleachers. I never met those guys.
One of the best bands contained three or four brothers, two of whom were Corky and Rick Manwiller. They did early Steely Dan material live, which required polished harmonies and a tight rhythm section. I don't remember the band's name.. .but eventually Rick joined our band Mr. Quick, on keys and vocals. (I found out in 2020 that he had passed away from cancer not too many years ago.) Rick had a talent and a sharp wit; I'm sure he is missed.
Below: The Mr. Quick Band, 1976.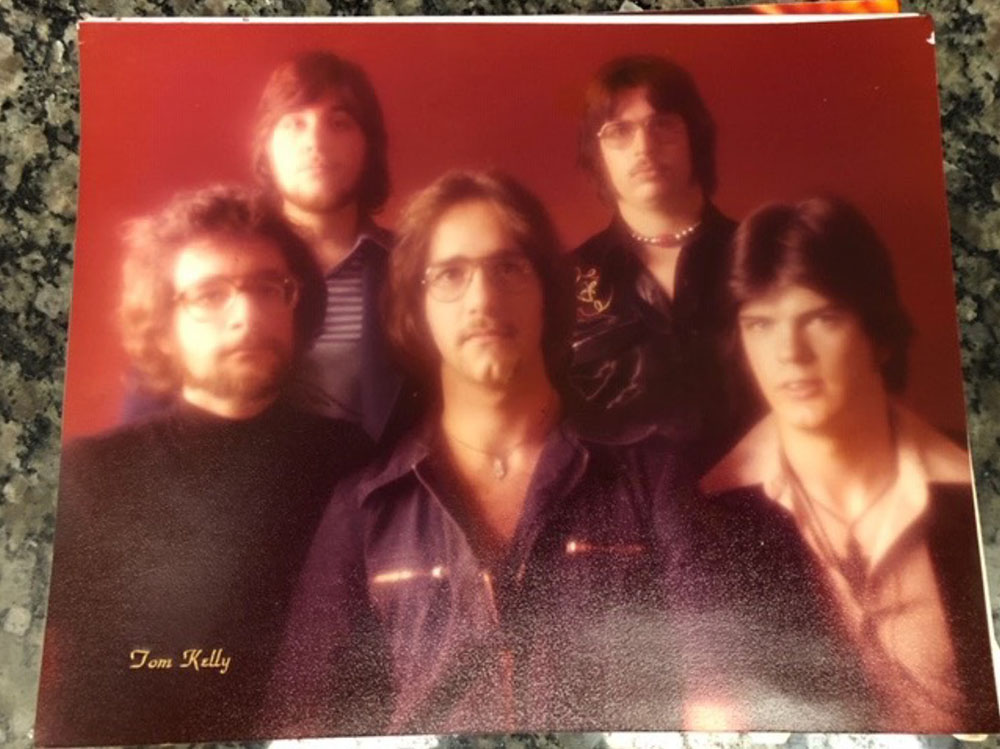 Below: The Mr. Quick Band, about 1977.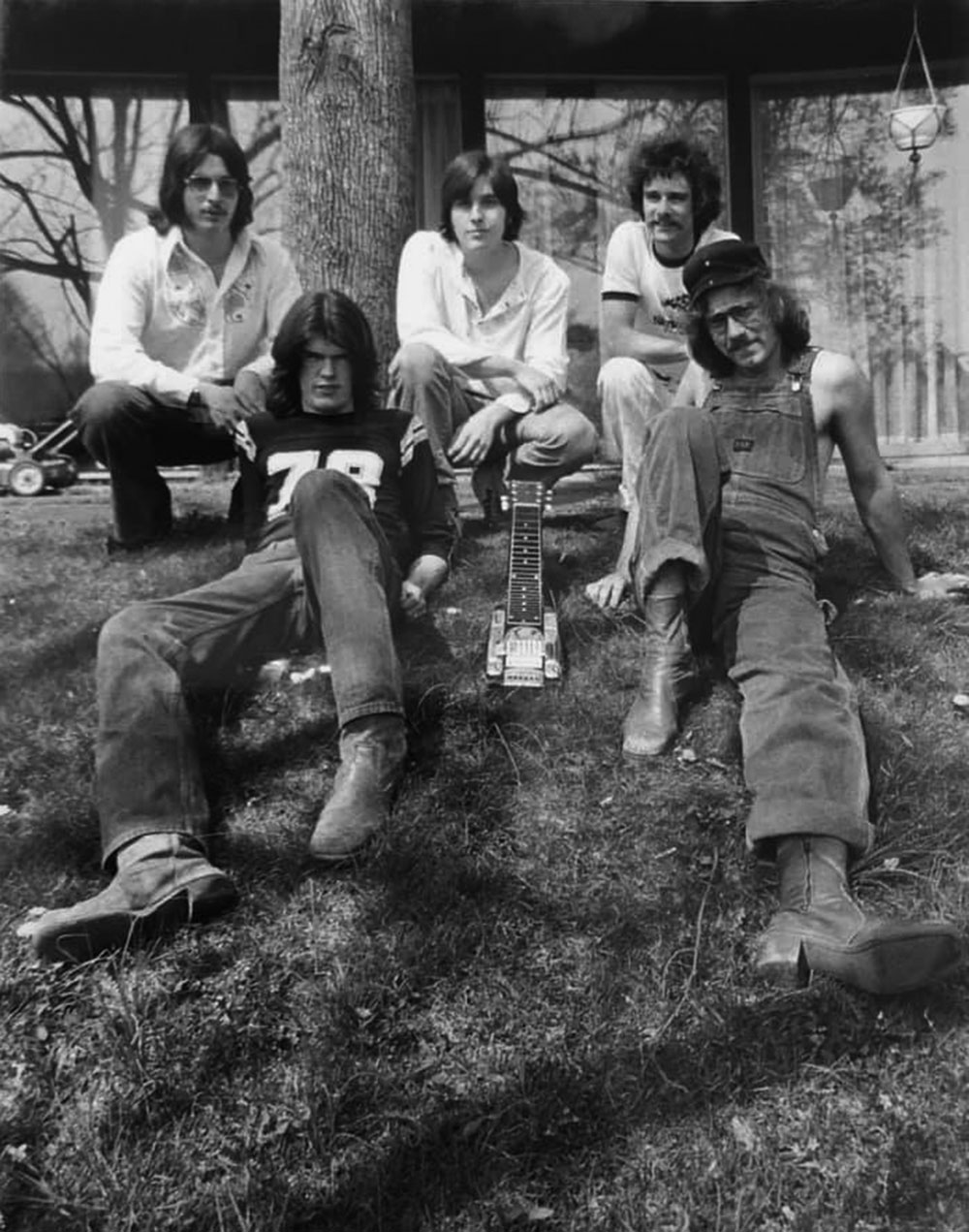 Below: The late Rick Manwiller, with his see-through guitar in his basement studio, 1976.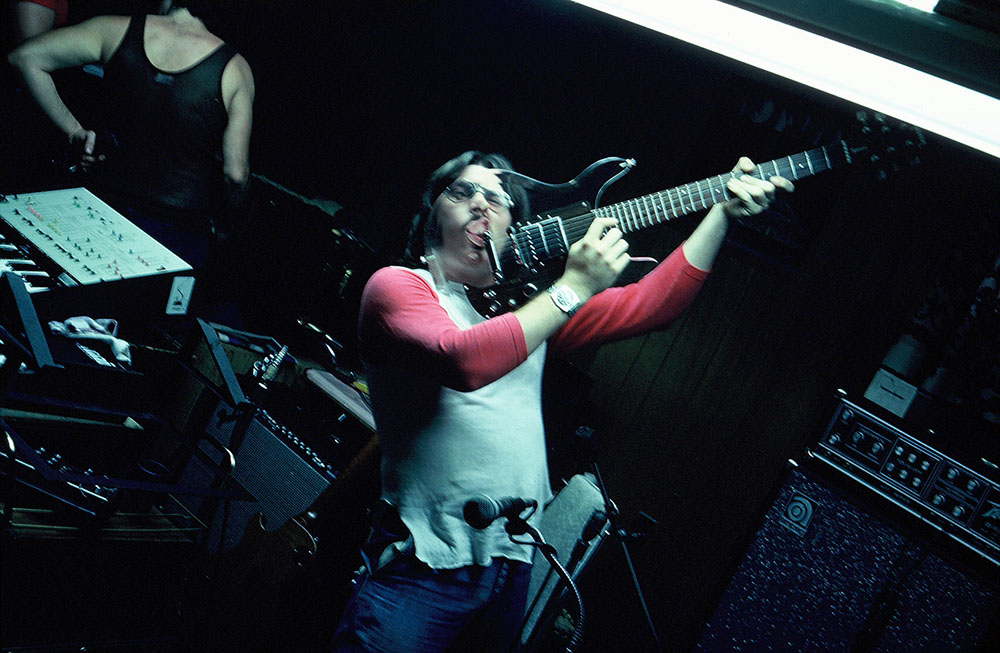 A major experience for me was not just joining a new start-up band, but moving in with them. "Mr. Quick" was a cover band headed by guitarist Andy Mann and bassist/singer Gregg Halteman, both from the Pottstown area. When my parents separated in 1975, I left my Mother and brother Kevin at home and moved into a 100-year old farmhouse rented by the band, just down the road from Daryl Hall's parents. The drummer, Dan Shea, could have done an Elvis look-alike gig, had white drums, and drove a new white Corvette. Being a cover band, Mr. Quick played local clubs in and around Reading. Since we lived together, we rehearsed almost every night of the week while working full time day jobs. Rick Manwiller joined and became the second lead singer after Gregg.. .That summer, I worked on a road paving crew, and soon had weightlifter's muscles and a deep tan.
Due to differences, they broke up early in 1977, but reformed and had some level of success after I had moved to Florida, according to bassist Gregg, who I connected with online recently. (Gregg lives in Beaufort, SC now.) Having to move out of the farmhouse, I found a room to rent in Honey Brook where I was reacquainted with singer Bill Auer, who became my new landlord, Bill then sang on occasion with the John Butch Band and his friend Paul Clemens.
Below: Singer and Vietnam veteran, Bill Auer, Jr. at home in Honey Brook, Pa. about 1977.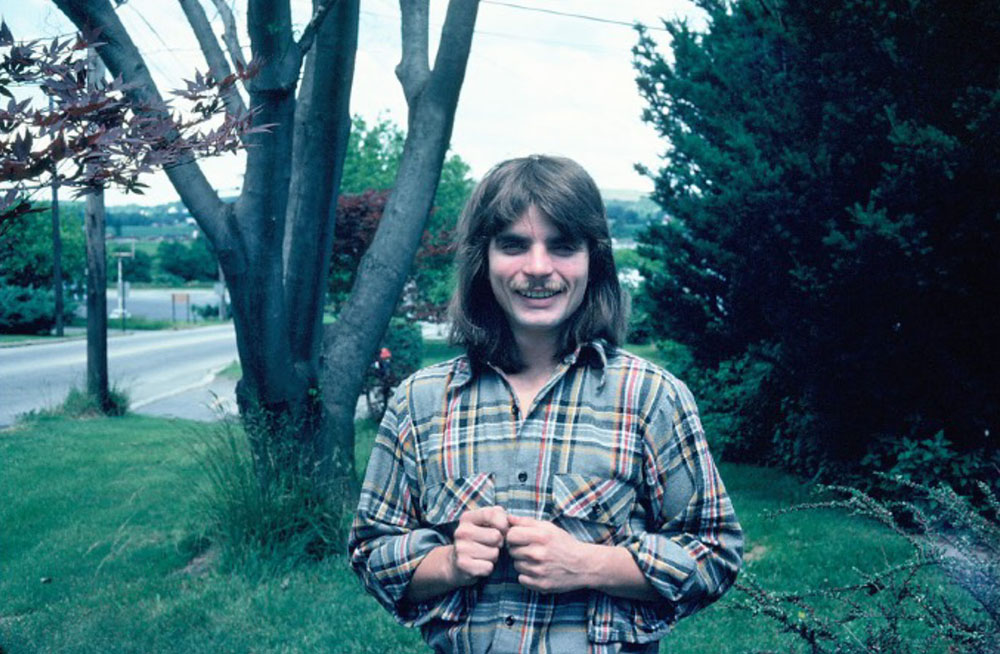 Nearly a year went by without me meeting any other musicians, but through Bill I met a new bunch. They were based north of Pottstown headed by another Vietnam vet, John Clingaman. This became The John Butch Band. This 6 member band played regularly in Reading at The Touchdown Cafe, among other places, and had the biggest loyal following of any group I had been in before. Again, I am unable to provide any photos of what became a growing group of friends who socialized outside of the band itself; becoming a partying bunch that played volleyball, they began calling themselves the Ball Hogs.
With a magnetic personality on lead vocals, Paul Vignone (also know as Paul Clemens) Tom Montgomery on Fender Rhodes, John Butch on bass, Roy ( ? ) on drums, and myself on lead, the band did an eclectic variety which varied from rock (Eagles and Orleans) to jazz standards. In a recording studio, we recorded a cover of a Jeff Beck instrumental that I still have.
Below: Singer Paul Vignone with Rick Manwiller in Rick's basement, about 1977.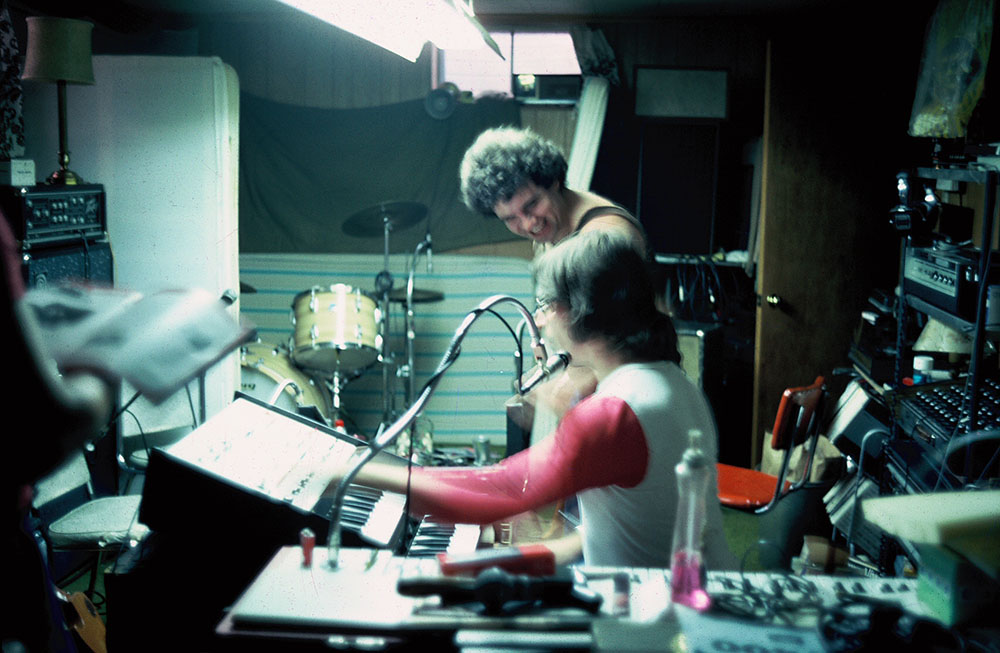 Paul Clemens had released several 45 records on his own, which got some airplay in the southeastern part of the state. One of his tunes is still found on YouTube, Playboy Records' "It Ain't Gonna Happen Again". Paul hired me to record guitar on one of his songs in a Philly studio, where I wandered over to a Fender guitar and picked it up, only to be verbally assaulted by the engineer, who yelled "Put that down, dammit, it belongs to Al Stewart".)
Another Reading musical figure I knew through Paul was David Moyer, who played bass and also worked as a guitar builder and repair tech. Sadly, I was informed recently that David is also no longer with us.
By December 1977 I felt I had exhausted all options to be in a working band where I was born and raised, and accepted an invitation for an extended visit with relatives in south Florida. Most of 1977 had been without any musical activity for me; I packed my few things into a '64 Plymouth sedan, after wrecking my much newer Toyota truck, and took I-95 straight to Hollywood, sleeping on my aunt's sofa for several months while looking for any kind of work.
Below: John Sharp in 1978.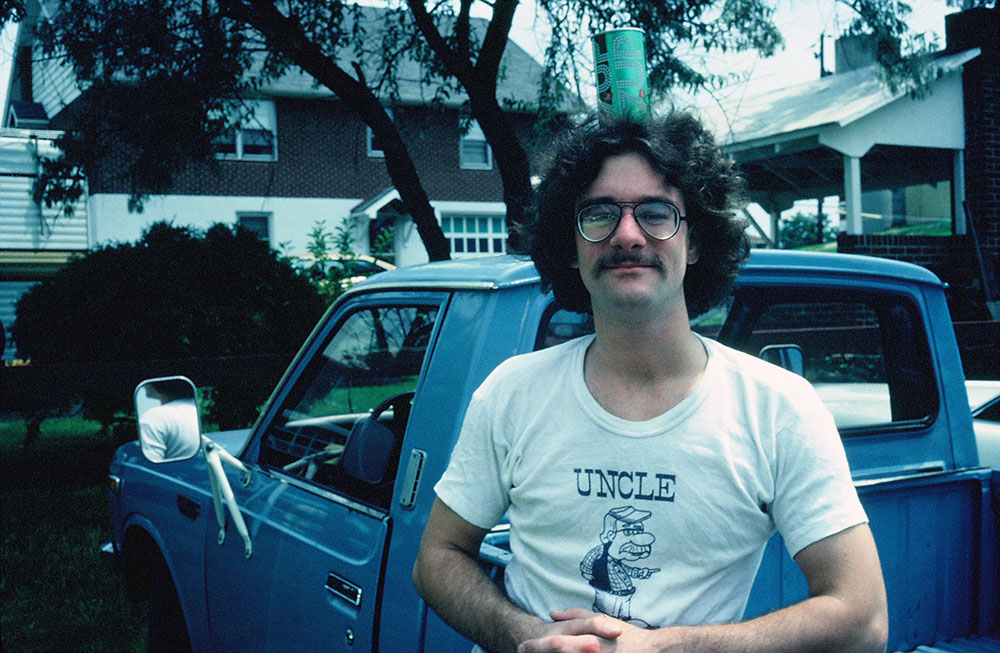 Eventually, I got a warehouse job and introduced myself to the Florida music scene through a combination referral service and consignment store in Fort Lauderdale, the Musicians' Exchange, owned by Don Cohen. I didn't know it then, but I had gotten an apartment only a few blocks away from Weather Report bassist, Jaco Pastorius, whom I eventually met…
But I was never again to return to living in Pennsylvania.
My burning curiosity about all these musicians continues to this day. Whatever happened to so-and-so, who played drums, or bass, or organ.? Where are they now?
In junior high, my family lived in a Shillington duplex next door to a guy who looked like Arnold Schwartzenegger, but he was friendly, and played tenor sax and sang. Joe Soltysik had a quartet that practiced in his basement, with jazz guitarist Marty Bunk and two other guys I don't remember. In a Reading music store there was a sophisticated looking Black man who taught with a fat Gibson named Archie Jenkins, who sounded like Wes Montgomery. Living near Pottstown there was an older Black man with a warm personality who played jazz on a Hammond B-3 organ, Ron Smith. Jamming with Ron was my first experience in playing jazz standards. Each of these had a positive influence on me in my development.
Sometime in 1980, I left Florida for good (gigs stopped because of Disco clubs) and landed in Charlotte, NC where there was said to be a vibrant music scene. But that story is for the next time. Today, in January 2022, with the pandemic still causing live music and theater gigs to be cancelled, I continue to be, on occasion.. .a working musician!
John S. Sharp