Carvel has had a presence in Berks County since its early days. In 1949, the company opened one of its first stores outside of New York at 3320 North Fifth Street Highway in Muhlenberg Township.
The 40-by-50-foor Carvel store on the Fifth Street Highway at the Reading Fairgrounds was one of 275 stores in the Carvel chain along the Eastern Seaboard and extending to the Midwest when it opened in October of 1952. The store had a capacity that permitted it to serve 288,000 ice cream cones per day. It was the only store in the chain that was open year around because it was the only section in the country in which the demand for ice cream continued high through the winter.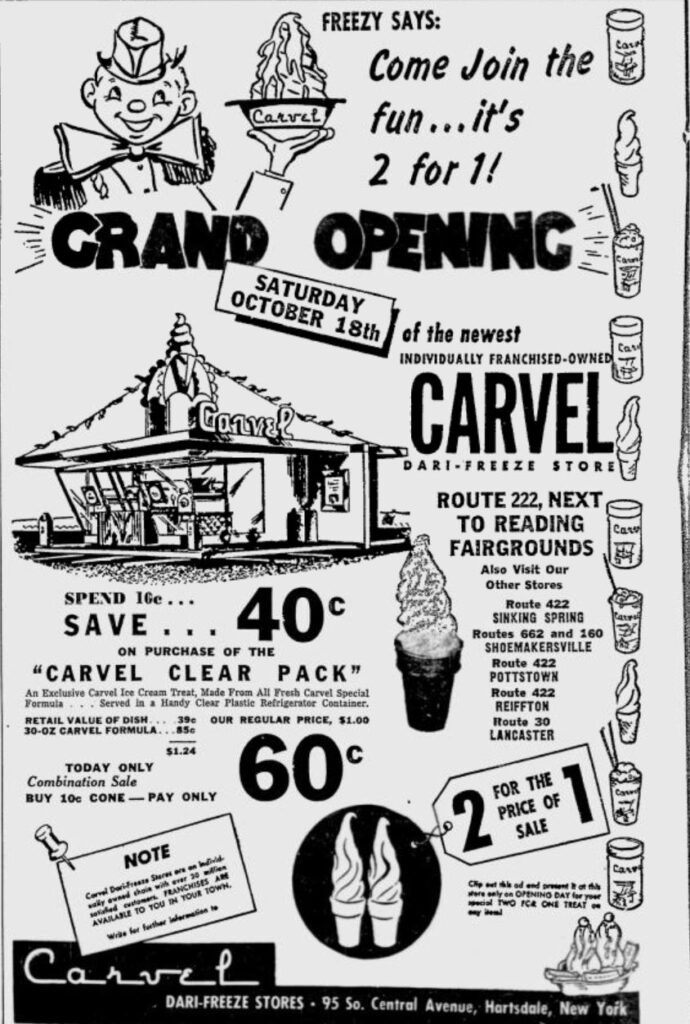 Carvel was founded and operated by Tom Carvel who made frequent appearances and trained his employees at the Berks store.
Carvel is best known for its soft-serve ice cream and ice cream cakes, which feature a layer of distinctive "crunchies". It also sells a variety of novelty ice cream bars and ice cream sandwiches.
Even though Carvel isn't a local brand, the Berks store is locally owned and operated by Frank Pilat.
Today, Carvel operates a chain of 320 ice cream outlets, primarily concentrated in the Northeast United States and Florida. It has locations across 19 states and Puerto Rico in high-traffic areas such as airports, malls, and sports arenas. The company also sells ice cream cakes in more than 8,500 supermarkets.