City advisors are currently collaborating with Benjiman Cammarano, a senior at Delaware Valley University majoring in Landscape Architecture and Environmental Science. Born and raised in Reading, PA, Benjiman has selected Bernhart's Dam as the focus of his senior Capstone project. The objective for Bernhart's Creek and Wildlife Nature Preserve is to establish a harmonious union between history and nature. The overarching goal is to provide visitors with a distinctive and immersive experience that fosters a connection with nature, honors the park's historical significance, and promotes environmental education. It aspires to be a place where individuals from the local and neighboring communities can come together to appreciate and learn from the natural world.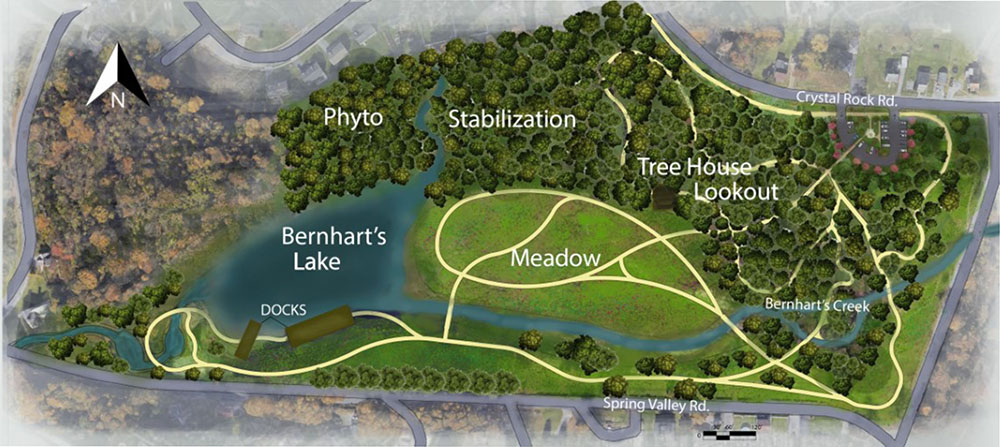 Visitors will be able to explore revitalized woodlands through interactive trail systems that feature educational boards along the way. The woodlands surrounding the lake will function as a floodplain meadow, providing habitat for a diverse range of captivating wildlife species found in the region. Within the meadow, there is a natural creek called Bernhart's Creek, which feeds a remaining 2-acre pond and facilitates the establishment of fish ladders, promoting the health of streams and waterways for all aquatic species. This experience will offer visitors countless opportunities to immerse themselves in, celebrate, and learn from nature. Trails equipped with educational boards will provide information and insights about the park's history and natural attributes. A boardwalk and observation deck would provide safe access and a space for birdwatchers and fishing.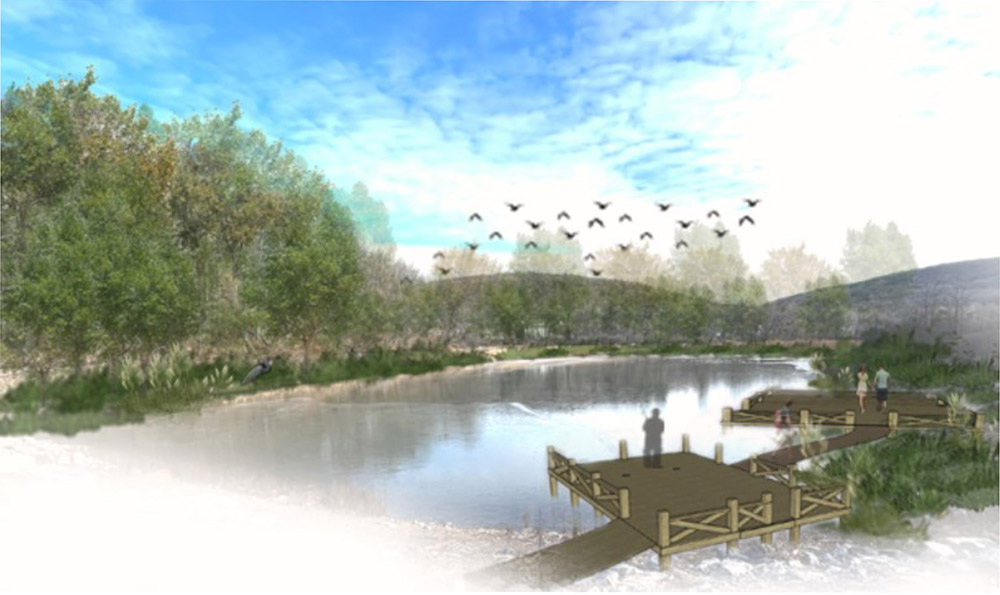 Bernhart's Dam carries a rich historical legacy and has encountered various challenges over time. Benjiman's objective is to create a space that not only reconnects the surrounding communities but also restores the area for the benefit of local wildlife. He intends to incorporate phytoremediation techniques to address any contamination resulting from the presence of a former battery plant. Phytoremediation uses plants to clean up contaminated environments. Plants can help clean up many types of contaminants including metals, pesticides, explosives, and oil.
The city is collaborating with the state to apply to the state for grants to secure funding for remediation efforts, with the goal of developing a magnificent water and environmental area similar to what was accomplished at Angelica. To ensure community involvement and input, the city intends to organize public meetings where residents can actively participate and engage in the project's development.