Reading used to be a playground town way back when we were kids.
We would race out of bed on smothering mornings of heat and haze, grab rumpled remnants of play from yesterday, gulp milk and toast and head to the innocent haven which was still free from the grownup world – the playground.
Remember Lance Place, Hillside, 16th and Haak? Reading Iron, Oakbrook, Schlegel Park? Pendora Park? 11th & Pike?
Kids could bounce balls off of sloping roofs or splinter wooden hockey sticks or get into heated arguments for baseball picks.
Homeruns were slammed into macadam streets while happy tots cheered from wooden bleachers.
There was the mystic Lantern Parade which snaked its quiet way in the dark as candlelit ice cream containers bobbed through the macadam paths of City Park.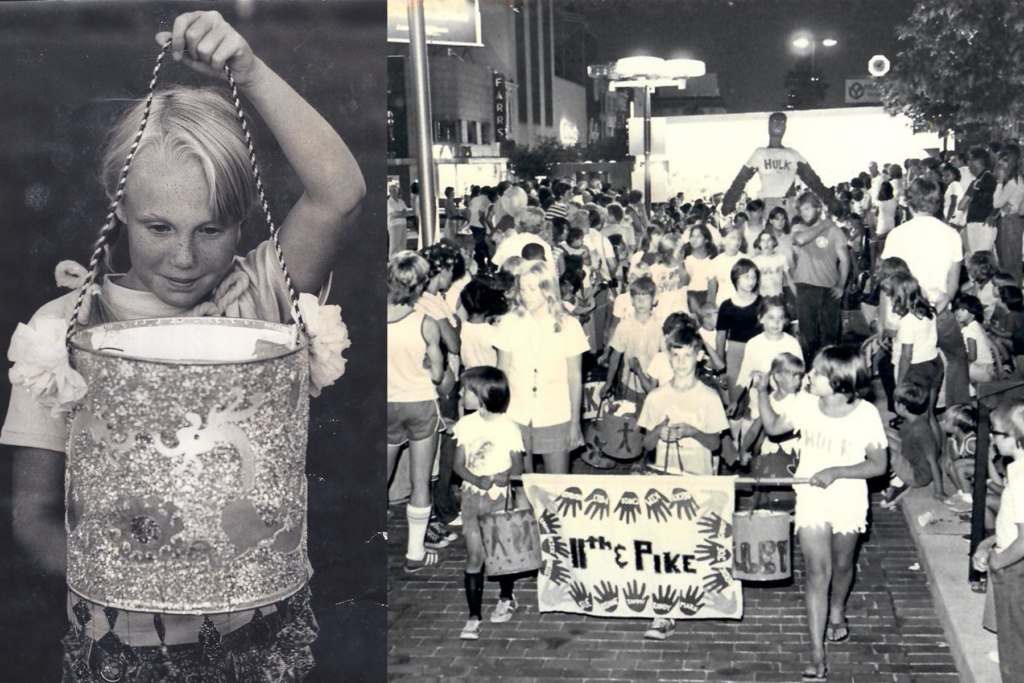 Mondays were Millmont movie nights and kids raided Mom's supplies for blankets to spread for sitting with friends hand-in-hand with puppy eyes.
Giggling girls boarded buses on Fourth of July for Pendora's breathless nights when explosions of fireworks lit the sky with reds and blues and whites.
There were playground picnics at Glen Alsace pool with water so cold teeth chattered gamely through ice-blue lips and hot dogs were hard to hold.
At the all-playground pageant on the Bandshell stage, kids tapped with clumsy toes to tunes from popular Broadway hits as applause politely rose from those who couldn't see that this was the end of not merely a season of sounds, but this was the end of the summer of life on the innocent playgrounds.
Remember the tall metal slides? Forget about falling from the top of the thing, how hot did that metal get in July? Many a thigh was seared on that playground griddle.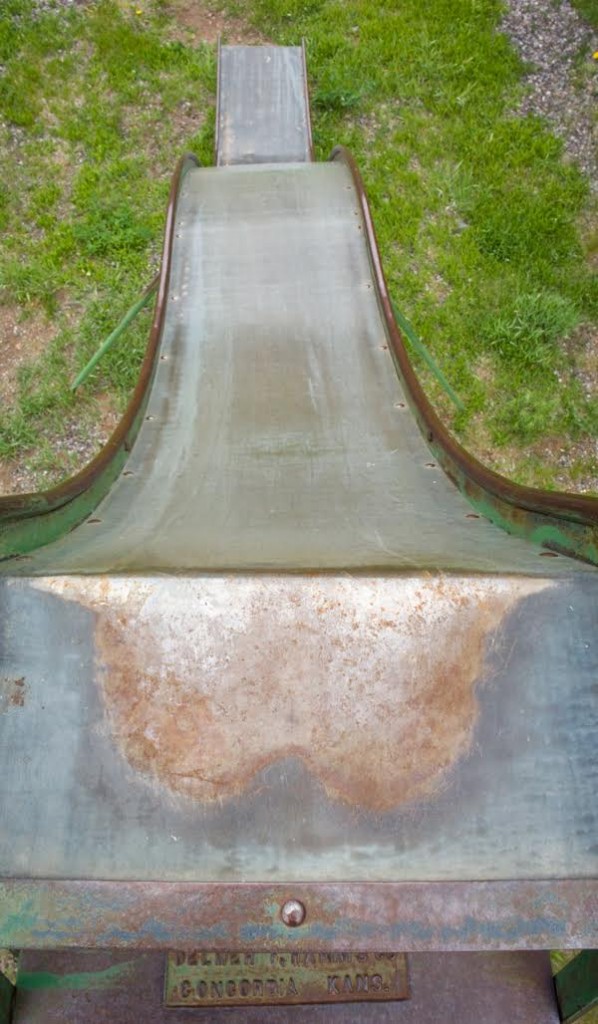 The 11th and Pike basketball courts in its heyday had lights and kids played there almost every night.  All six baskets (one long court and 4 crisscrossed half-courts) were always filled with kids wanting to play.
Remember having fun playing on the tall monkey bars falling and all of that?  You had to get a scrape on your knee or banged up once or twice.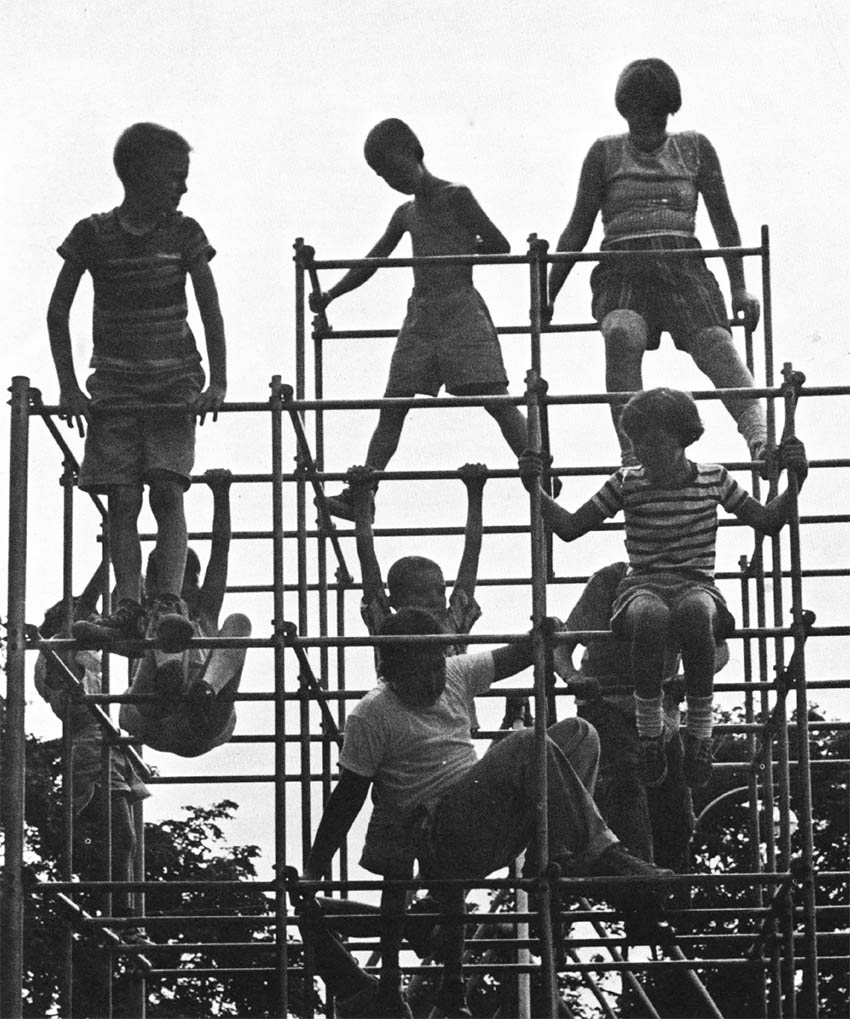 Monkey bars were once as much a part of Reading City playgrounds as water sprinklers, shade trees and bubble gum, and several generations treasure the dizzy memory of hanging upside down from an upper bar.
Below: Abandoned Pendora park sprinkler.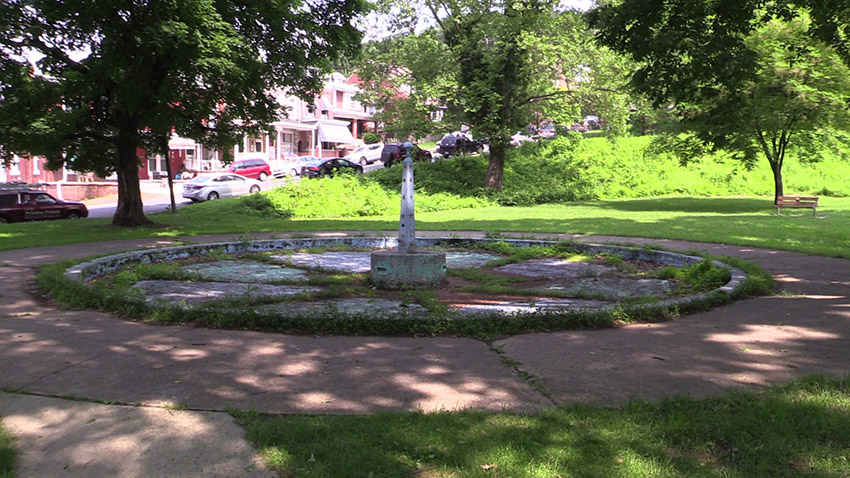 The tougher, faster kids always pushed the brightly colored merry-go-round, trying to make riders as dizzy as possible.
Below: Merry-go-round at City Park, 1980s
In the same way, you'd dare your sibling or best friend to push you even higher on the swing so your toes could touch the sky.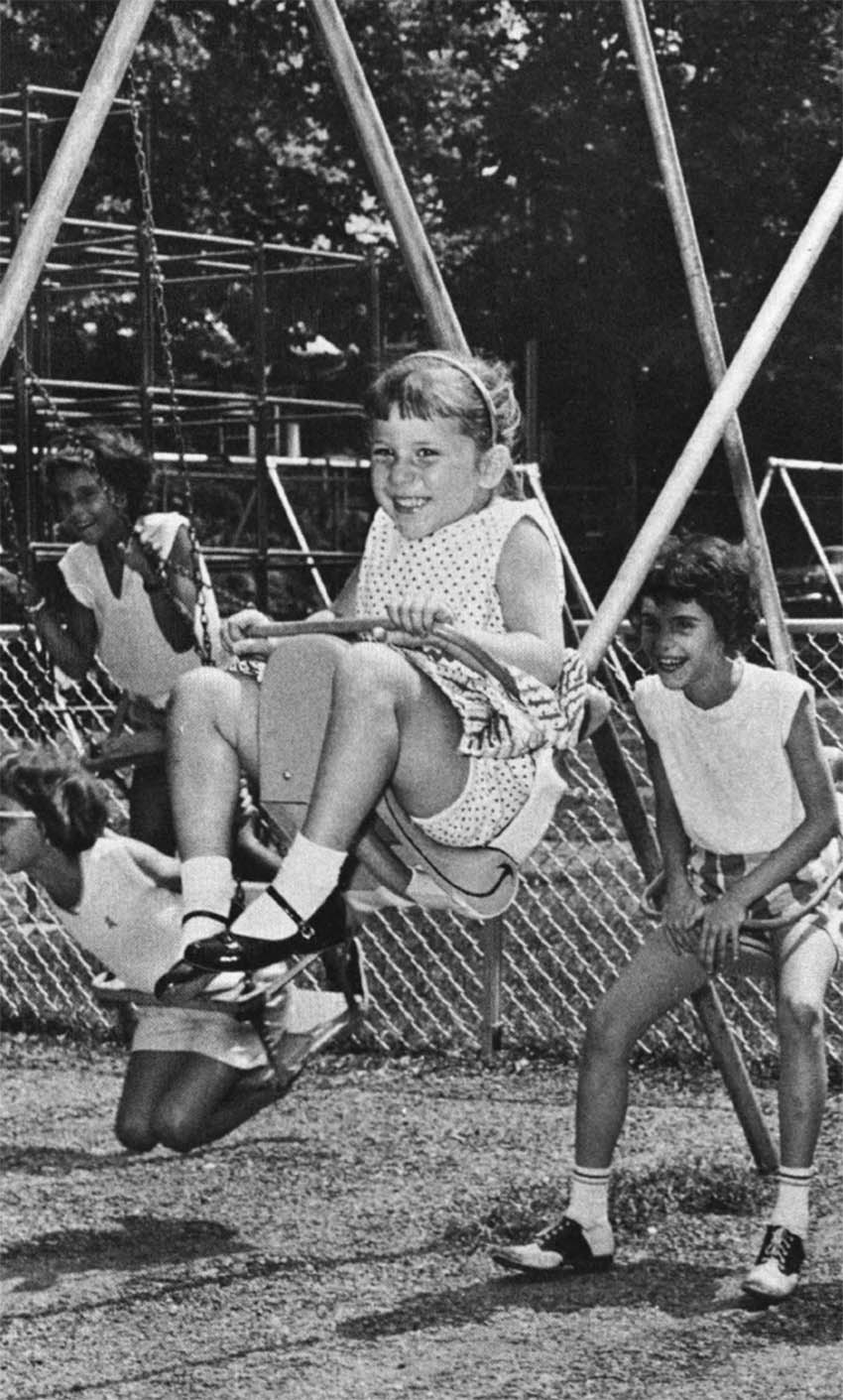 The wood seesaws not only were huge, but they had no handles so you had hold on to the sides of the board where you sat.
For three decades, one of the city's most popular and interesting attractions was the yellow-brick play castle in City park, situated on the north side of Washington Street, above 11th.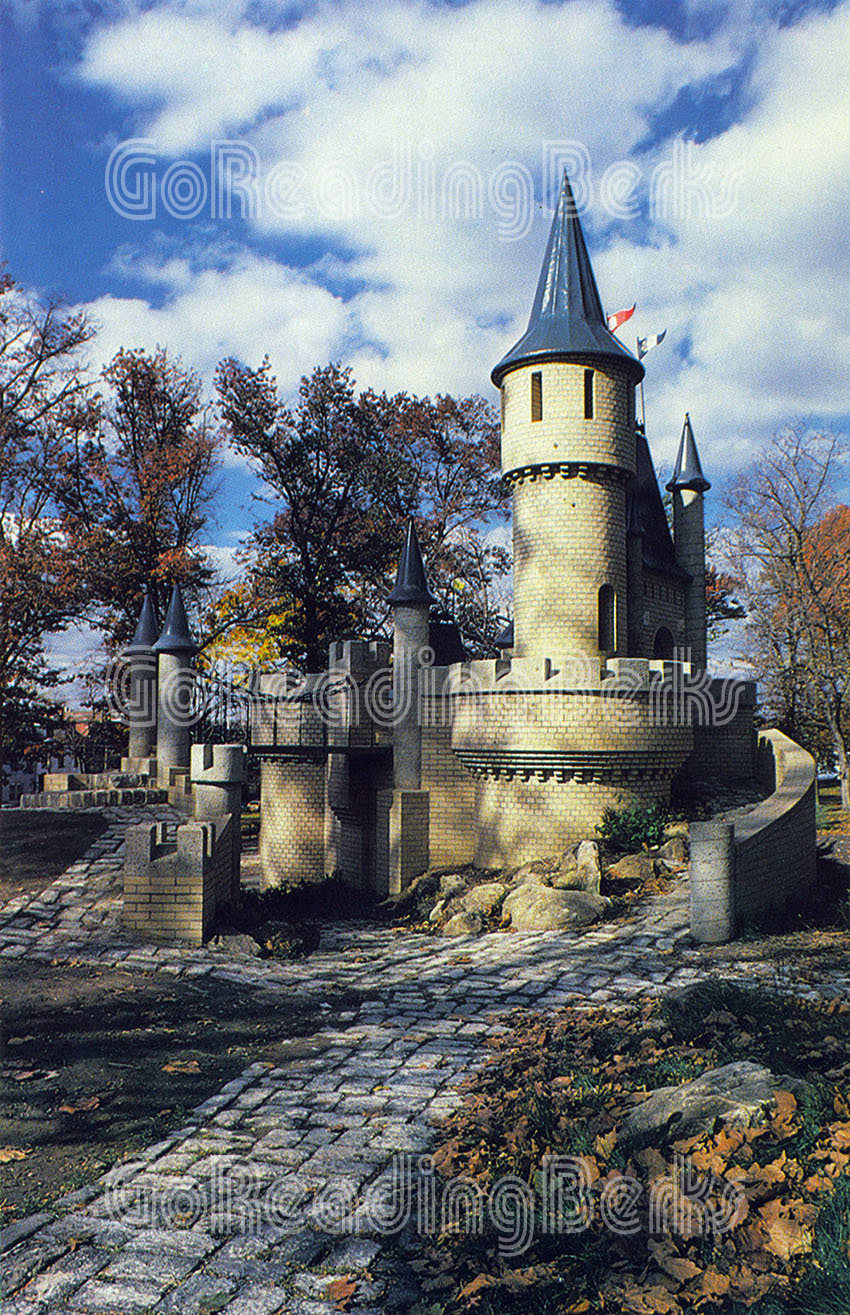 Today, the objects of happy summers past have nearly disappeared, replaced by newer equipment that's lower to the ground and made of plastic, painted metal, and sometimes rot-resistant woods like cedar or redwood.
The transformation began in 1973, when the U.S. Congress established the Consumer Product Safety Commission, which began tracking playground injuries at hospital emergency rooms. The study led to the publication of the first Handbook for Public Playground Safety in 1981, which signaled the beginning of the end for much of the playground equipment in use.
Then, the American Society for Testing and Materials created a subcommittee of designers and playground-equipment manufacturers to set safety standards for the whole industry. When they published their guidelines in 1993, they suggested most existing playground surfaces, which were usually asphalt, dirt, or grass, needed to be replaced with pits of wood or rubber mulch or sand, prompting many schools and parks to rip their old playgrounds out entirely.
We abandoned the skies when we grew up and refused to fly. We refused to reach such incredible heights. It's a shame, when we don't see life the same as it was through a child's eyes. When we can't remember that beauty, imagination quickly dies. Too many of us have grown up, but are no longer alive.
Maybe we have gone too far. Adults have come to the mistaken view that children must somehow be sheltered from all risks of injury. In the real world, life is filled with risks – financial, physical, emotional, social – and risks are essential for children's healthy development.