Years back, before suburban malls lured shoppers away from in
town, Penn Street was teeming with pedestrians from morning to night. Around the holidays, sidewalks were thronged to the extent the only way to pass people was a side-run out in the street. Hundreds and often thousands shopped the Penn Street stores regularly -except Sundays, of course. Taking advantage of all the foot traffic, go-getters stationed themselves at strategic points shining shoes, selling newspapers, flowers, popcorn and peanuts, ice cream products, novelties (kazoos, yo-yo's, balloons, etc.) – and remember the roving photographer who'd take your picture then give you a numbered envelope to send in your dollar. Among the last of the regular Penn Street vendors was the old man who sold hot chestnuts in winter on the north side of Penn and the fellows who sold soft pretzels at the southeast comer of 5th & Penn. There was several over the years. Pictured below is Harry S. Kline who was permitted to sell soft pretzels from his small electric-powered cart in front of Grant's 5&10.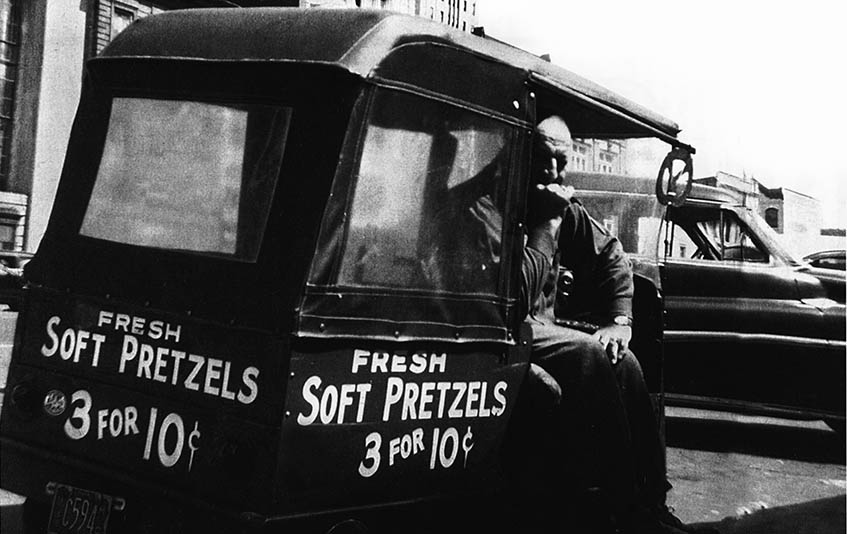 He had been a butcher in Bernville until losing his right leg in 1918 at the age in of 12.  Young Kline was driving cattle to the public road leading from Wernersville to Reading when he was run down by a car driven by Henry L. Klouser. After learning to walk again using an artificial leg, he became an elevator operator at Pomeroy's and, in 1946, their in­store Santa Claus – until September 1949 when he lost his other leg. In 1951 his brother, John S. Kline, provided him with the cart seen above. Harry sold an average of 75 dozen pretzels daily and about 200 dozen on Saturdays. Despite his handicap, Harry maintained a cheerful disposition and became a friendly fixture on the square – until his death on October 15, 1956.