The Reading Bolt and Nut Works was a plant extending over some eight acres of land, lying between Third and Fourth streets, and between the Lebanon Valley Railroad and Buttonwood Street. The large and important industry had its inception in 1865.
James Hervey Sternbergh was a pioneer in the manufacturing of nuts and bolts in America. He was born in Henrietta, Monroe County, New York, May 20, 1834, and became a resident of Saratoga Springs with the family as a young boy. For a number of years he was active as general passenger agent of an early railroad which ran through Saratoga, later absorbed by the New York Central, although his education had been governed by his ambition to enter a profession. Close application to study had threatened his eyesight and business interests were accepted as an alternative.
Below: James Hervey Sternbergh.
In 1865, James Hervey Sternbergh came to Reading and began the manufacture of bolts, nuts, rivets, etc. in small quarters at the foot of Pine Street.
In the year 1867 he invented and patented a machine of his invention for making hot-pressed nuts which greatly facilitated production formerly done entirely by cutting processes. He invented a superior grinding machine for grinding hard metals, doing the work much more effectively than before, and at much less cost.
In 1869, the erected the plant at North Third Street beyond Buttonwood.
In 1886 Mr. Sternbergh took his son Philip him into partnership. His son subsequently became the manager of the branch works in Kansas City, Mo. There he died on April 2, 1903, at the age of thirty-eighth. His death was a fearful blow to Mr. Sternbergh who was beginning to feel a comforting dependence upon his ability and permanent interest in the organization.
Below: Map of 1884 showing Reading Bolt and Nut Works, 4th and Buttonwood Streets.
Below: Reading Bolt and Nut Works, 4th and Buttonwood Streets.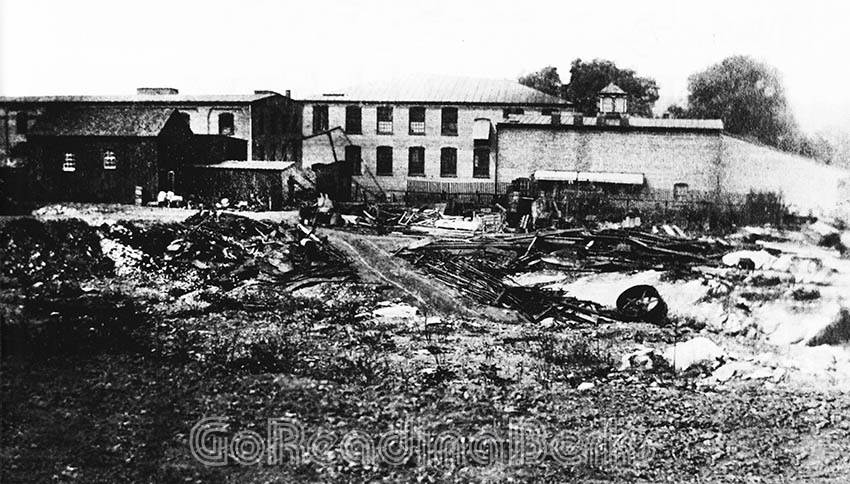 Below: 1891 Survey of Reading Bolt and Nut Works, 4th and Buttonwood Streets.
On February 6, 1891, when Mr. Sternbergh himself was in New York City on business, a disastrous fire occurred at the works in Reading and except for the rolling mill buildings and some large machinery the holdings of the concern were destroyed. The loss was estimated at $300,000. It was a heavy financial blow, but with characteristic energy he went about immediately getting things in shape, and within ten days after the fire the works were again in operation. At its peak, 1,500 men found employment here.
The succeeding years saw extensive development, new buildings arising one after the other extending over some eight acres of land, lying between Third and Fourth streets, and between the Lebanon Valley Railroad and Buttonwood street. The largest building was devoted to the manufacture of nuts, bolts, washers, rods and rivets for bridge building, etc. Some fifty thousand tons of rolled iron, including all sizes of bar iron in common distribution to the trade, comprised the output of the plant and placed it among the leading enterprises of its kind in America.
Mr. Sternbergh's goods were awarded medals at the Centennial Exposition at Philadelphia in 1876; at the Chicago Exposition in 1883; at the New Orleans Exposition in 1885; at the Paris Exposition in 1889; and at the Columbian Exposition in 1893, where they had three exhibits.
The later years of Mr. Sternbergh's active connection with the concern saw changes and consolidations of vital importance not only to the enterprise but to the trade. On September 1, 1899, the firm of J. H. Sternbergh & Son consolidated with the Pennsylvania Nut & Bolt Company, of Lebanon, Pennsylvania, and the Lebanon Iron Company, the East Lebanon Iron Company, both of Lebanon, Pennsylvania, also the National Bolt, Nut & Rivet Works, of Reading, Pennsylvania, to form the American Iron & Steel Manufacturing Company. The impetus given to this great concern during the six-and-a-half-years which followed carried it to a foremost place in the world of iron and steel under the leadership of James Hervey Sternbergh as president.
In February, 1907, he retired at age 73 leaving the concern capitalized at $5,550,000, $3,000,000 being full paid preferred stock, and $2,550,000 full paid common stock, and employing four thousand men. The company was purchased in 1918 by the Bethlehem Steel Company.
Below: Map of 1913 showing American Iron & Steel Manufacturing Company, 4th and Buttonwood Streets.
Below: Renderings of American Iron & Steel Manufacturing Company, 4th and Buttonwood Streets.
Other business affairs, particularly during the six years of his wide prominence in the steel world, sought the attention of Mr. Sternbergh and gained the benefit of his marvelous ability and seasoned judgment. He was made a director of the Second National Bank, of Reading, also of the Reading Trust Company, not to mention the fact of his having founded, in 1887, the Kansas City Bolt Nut Company. He was a member of the Reading Board of Trade, for three years president of this body and always influential in its deliberations. He was distinguished by more than one nation, for he was an honorary member of the Academy of Inventors & Manufacturers, of Paris, France, also the European Society of Brussels, Belgium. Interested in every phase of human endeavor, and particularly welfare work among young men, he was one of the founders of the Young Men's Christian Association, of Reading, and for many years served as president of this organization. A member of the First Presbyterian Church, of Reading, he served as Sunday School superintendent for eighteen years, and until his death was for years a ruling elder of the church.
James Hervey Sternbergh married (first), in the year 1862, Harriet M. May, of Southbridge, Massachusetts. Their children were five in number: William Hervey, Philip Hervey, Pearl Lambert, Herbert May, and Harriet May. Harriet M. (May) Sternbergh died in 1886. Mr. Sternbergh married (second) Mary Candace Dodds, of North Hero, Vermont. Their children were: James Hervey, Jr., born May 26, 1890; Helen, born August 18, 1891; David, born December 29, 1892; Lambert, born March 29, 1895; Margaret Schuyler, born May 20, 1897; and Gertrude, born May 8, 1899.
The Overlook Mansion at 620 Centre Avenue was erected by Mr. Sternbergh and inhabited by him and his family from Dec. 11, 1873 to March 30, 1885.
Below: Overlook Mansion at 620 Centre Avenue, 1897.
Below: Overlook Mansion at 620 Centre Avenue, present day.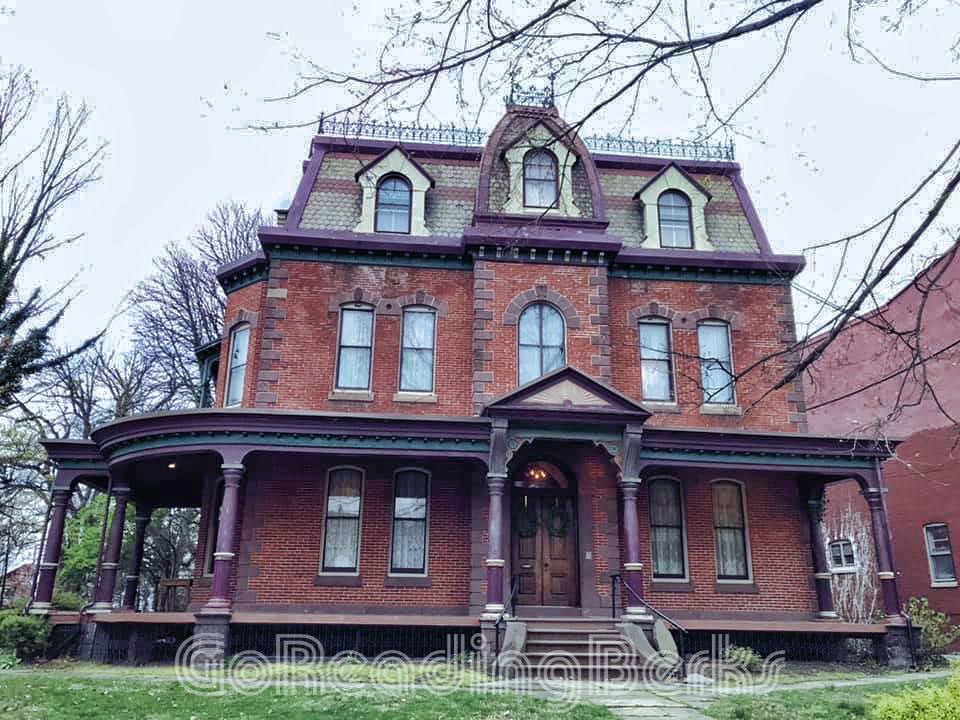 After the death of his first wife, Harriet M. May, Mr. Sternbergh erected the "Stirling" Mansion at 1120 Centre Avenue. Unpleasant memories of Sternbergh's 1st wife's lingering illness and death at "Overlook" prompted a move to 530 N. 4th in 1885, and then to 330 Greenwich where the family lived while "Stirling" was under construction.
The "Stirling" is a Chateauesque-styled mansion designed in 1891 by Harvard-educated American architect Theophilus P. Chandler (1845-1928) who was educated at Harvard University and Atelier Vaudremer in Paris. Construction began in 1892 and was completed by 1894. "Stirling" was built on five finely landscaped acres enclosed on three sides by tall wrought-iron fencing, and on the fourth by large evergreens and shrubs. The mansion, together with a large Tudor-style carriage-house and a frame tenant's house, is bounded by Centre Avenue, Marion, Front, and Robeson streets. The mansion has 43 rooms (including bathrooms). The 15,550 square foot mansion is constructed of squared granite ashlar and features a number of eclectic decorative elements including tall chimneys with decorated caps, a balustraded verandah, steeply pitched gable roofs, and roof dormers.
Below: The Stirling Mansion, 1120 Center Avenue, 1894.
Below: The Stirling Mansion, 1120 Centre Avenue, 1897.
The mansion remained the private residence of the Sternberghs for over one hundred years. Gertrude Sternbergh, the youngest daughter of Mr. Sternbergh, was a lifelong resident, and infused her passion for the arts into the essence and spirit of Stirling. She was hostess to grand concerts which brought talented classical musicians through Stirling's doors. In 1998, the mansion was purchased by Kaj Skov who converted the property into a hotel with 9 large furnished guest rooms and 6 more in the carriage house. The historic property was listed on the National Register of Historic Places in 1980.
The Stirling Guest Hotel was sold in May 2019 to Cesar Gonzalez, and renamed The Gables at Stirling Guest Hotel.
Below: The Stirling Mansion, 1120 Centre Avenue, present day – Touch or Click Images to Enlarge.