William Henry Luden, developer of the menthol cough drop and founder of the Luden's company in Reading, PA, amassed considerable wealth through his confectionery business.
In 1882, William H. Luden began modestly making candy for Christmas, with thirty pounds of sugar, at No. 37 North Fifth. In 1900, he moved to larger quarters on Eighth Street beyond Walnut, where he erected a four-story brick building. In 1909 he expanded the south end of his establishment from 60 feet front and 110 feet deep to 225 feet front and 110 feet deep and increased his work force to five hundred people. In 1925, his business produced 15 million packages of candy. William Luden retired in 1927. In 1928, the company was acquired by Food Industries of Philadelphia, a holding company owned by the Dietrich family. William Luden, age 90, died May 8, 1949 of a heart attack in Atlantic City, New Jersey.
Below: Luden Candy Factory, 8th and Walnut Streets, Reading, PA.
During his time in Reading, Luden built two mansions. The first was built in a Victorian Romanesque style in 1899 at 709 North Fifth St. in the Centre Park district. The second was the Bon-Air mansion in 1922. The Bon-Air Mansion is best known as the former home of Bornemann Memorial Reading Central Catholic High School from 1940 to 2011.
Below: Luden Bon-Air Mansion, Hill Road and Clymer Street, Reading, PA.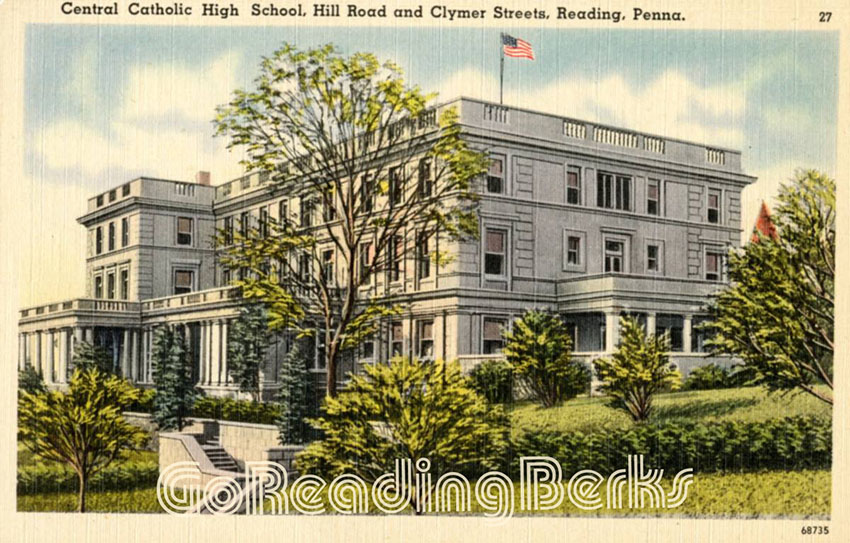 William Luden also had homes in Villanova, Atlantic City, Palm Beach and Miami Beach.
His 9,800 square-foot Atlantic City residence, a 30-room stone building, was located at Tallahassee Avenue and the beach in Ventnor, a suburb of Atlantic City. The residence had 11 bedrooms, each with its own bathroom, two elevators, and oak floors in the formal living room. The house featured 175 feet of beach frontage, covered porches and decks with views of the ocean, beach and boardwalk, plus a large accompanying garden within feet of the beach that would make anyone envious.
In 1936 the seashore home was offered to President Franklin D. Roosevelt as a "summer White House."
His Atlantic City vacation home was purchased by the Philadelphia Archdiocese in 1963 for $100,000. The Philadelphia Archdiocese named it the "Villa St. Joseph by the Sea" and used it as a vacation retreat for retired priests. In 2012 the Philadelphia Archdiocese, which could no longer afford to maintain the mansion, sold it at auction for $4.5 million.
By the time the home was purchased in 2012 it was in serious need of repair. Renovations of the home began in 2013. Most of the siding was ripped off. Work crews took the roof off, beam by beam and section by section. Rotted wood and mold was discovered throughout the entire home. Eventually the owners realized that the old landmark could not be saved. The mission changed from saving the landmark to building a new landmark – modeled closely, although not precisely, on the old one.
Below: Luden Ventnor Mansion Demolition. Touch or Click Images to Enlarge.
In 2015 the delicate job of tearing down the old home piece by piece and constructing a new home on top of the original foundation was complete. Once again the people of Ventnor had a landmark they could be proud of
Below: Completed Ventnor Mansion. Touch or Click Images to Enlarge.